Messages

24
Location
RC Driving Style

Bashing
Racing
Hello RCT Nation!
I am in the process of aquiring pieces and parts for my and could use some help. So far, I have the kit, a few different pinion gears (28t, 30t and 32t), a fancy exotech motor mount and battery mount.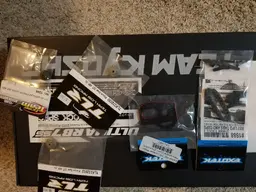 As for motor/esc, it seems hobbywing has a decent reputation. Looks like Reedy makes a good motor. What do you suggest for a motor and esc? I have a budget of about 200$ for the combo. I can go a little over if it is going to be a good jump.
Servo - What steering servo is reccomended? 60$ budget?
Batteries - I like the Spectrum smart batteries. Do I need the fancy bullet connector ones? What C rating? Does that depend on the servo?
Tires - will probably mainly be used for bashing. I might be doing some racing, the car will primarily be used by my 7yr old. Suggestions? Another member uses traxxas slash tires for bashing. I do like that idea.
Transmitter/ receiver - 100$ budget?
If I am missing anything, let me know. I usually do lol.
Thanks!