Axial AX-10 Ready-To-Crawl
RCTalk is supported by our readers. When you purchase through links on our site, we may earn an affiliate commission. Learn more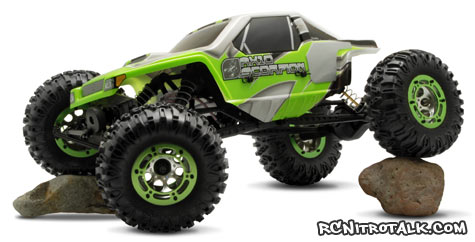 Axial is at it again, another RC Rock Crawler. This time a Ready-To-Crawl version of the ever popular Axial AX10 scorpion kit! The new Axial AX-10 Scorpion rc rock crawler is fully ready to rock crawl right out of the box! With the new Axial AX-10 RTC rc rock crawler, Axial has done a lot of things right to improve the basic AX-10 kit.
For starters Axial has added a slipper clutch to reduce gear wobble for a much more efficient drivetrain and also increases the durability of the drivetrain. Axial has also given the Axial AX10 ready to crawl solid rear axle lockouts which improve ground clearance while rock crawling.
The Axial AX-10 Ready-To-Crawl also includes a forward and reverse ESC and a 55T electric motor to power the rc rock crawler. Axial also upgraded the RTC rock crawler with Proline 2.2 8 hole beadlocks and even includes Proline Hammer rubber with Proline memory foams – both a big upgrade from the AX-10 scorpion kit version.
To keep the Proline Racing Hammers stuck to the ground, Axial has equipped the AX-10 Ready To Crawl with newly designed 72-103mm shocks! The new shocks feature threaded shock bodies to make pre-load adjustments a breeze. The new 3.5mm shock shaft reduces lateral movement while the cartridge style bottom helps reduce lateral movement while providing a better steal for less leakage. Axial has also include a silicone diaphragm to provide a more consistent feel and better seal to prevent leakage.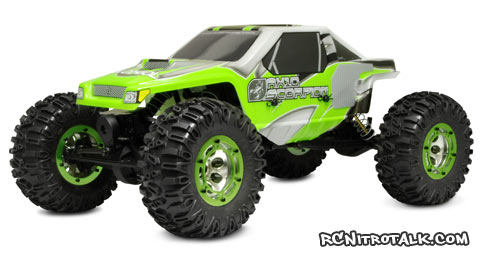 Axial AX-10 Scorpion Ready To Crawl Features
Complete Ready-to-Crawl (RTC) out of the box
4 Wheel Drive (4WD)
Mount a standard stick pack to get up and running quickly, or use the included upper link plate to mount smaller batteries lower in the chassis for improved crawling performance
55T Electric Motor: Tear up the terrain in-door or out-doors. Easy Operation: No Tuning, No Fuel, No Loud Exhaust Noise. Just Plug'n'go!
14T pinion paired with an 87T spur gear gives you a decent amount of wheel speed and great low-end torque.
True Beadlocks: No Messy Glue
Hi-quality Composite Plastic and Metals
Durable (ESC) Electronic Speed Controller: Hi-quality durable forward and reverse speed controller.
Hi-Torque Metal Gear Servo help hold your line when rock crawling
Solid Rear Axle lockouts improve ground clearance when crawling
Slipper Clutch: Reduces gear wobble for a more efficient drivetrain. Allows a motor to work more efficiently and greatly enhances the durability of the drivetrain.
Aluminum Chassis plates with a molded nylon skid plate provide a solid and rigid chassis
Ultra compact and lightweight transmission
Fully locked differentials for more traction when rock climbing!
Full ball bearings
Overall gear ratio range from 15:1 to 74:1
Transmission: 2.6:1; center mounted
Differentials: front – gear differential; rear – locked (spool)
Transmission: single-speed
Tires: Pro-Line Hammers with Pro-Line Memory Foams
Wheels: Axial 2.2 8 Hole Beadlocks (Satin Chrome)
Suspension: 3 Link
Drive Shafts: universal front and rear
Axial AX10 RTC Chassis
Wheelbase: 316mm~332mm (12.4"~13")
Width: 254mm (10")
Height: 156mm (6.125")
Weight: 1588g (3.5 lbs)
Articulation: 70°
Ground Clearance: 68mm (2.7")
Axial AX10 RTC Electronics
Radio: 2 Channel
Servos: 1 Hi-Torque Metal Gear (Standard Size)
Forward/Revers ESC
Motor: 55T 540/550 Size
Part #: AX90011 – AX10 SCORPION RTC (READY-TO-CRAWL)
Discuss the new Axial RTC rc rock crawler in our RC Rock Crawlers forum.