RCTalk is supported by our readers. When you purchase through links on our site, we may earn an affiliate commission. Learn more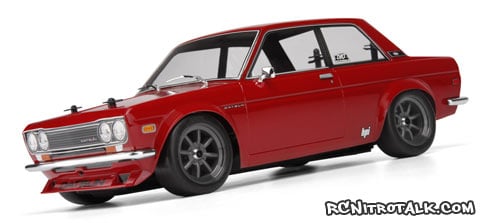 Cup Racer and Datsun 510 fans can rejoice, HPI has just released an incredible scale and realistic looking Datsun 510 Cup Racing kit – introducing "True Ten Scale: True Looks, True Engineering". The Datsun 510 body comes with chrome bumpers, side mirrors, windshield wipers, headlight buckets, exhaust pipe, and a full set of pre-cut vinyl decals. Add your own paint and you're ready to terrorize the field with this iconic vintage racer.
The concept behind the Cup Racer and True Ten scale is simple: to make the best-looking, most realistic car models available. To do this, the HPI body production department teamed up with HPI's top car designers to put together the the True Ten look, which authentically reproduces actual cars in a way that makes them look exactly like the real thing. These aren't slammed and lowered versions lookalikes designed for ultimate performance, though: the True Ten ideal is to replicate the real cars as they are in real life – in width, height, length and detail, with details so precise that real car fans wouldn't be able to tell the difference at first glance.
Authentic Detailing
The HPI True Ten series features the most painstaking attention to detail that our designers have ever tackled. Every body line and curve from the real car is represented in the crash-resistant bodyshell. Every door line, bootlid and side skirt is represented exactly as it appears on the real car. There are even reproductions of the actual windscreen wipers, bumpers, exhaust systems and mirrors, allowing the HPI True Ten series to deliver the utmost in scale car driving!
HPI graphics designers are already legendary for producing the most accurate bodyshell graphics you can find, and when you combine that with the uniquely crystal-clear bodyshells from our body production department and the new ultra-scale accessories, you get pure scale magic.
To complete the True Ten concept, the challenge of the design team was to put the scale bodies on a chassis that is truly deserving of the ultimate scale looks. This involved a complete re-think of how scale RC cars are designed and used by today's RC hobbyists. Scale modelers want something that just works, however experienced RC hobbyists and racers want something that can be tuned to perform. We think our guys nailed it.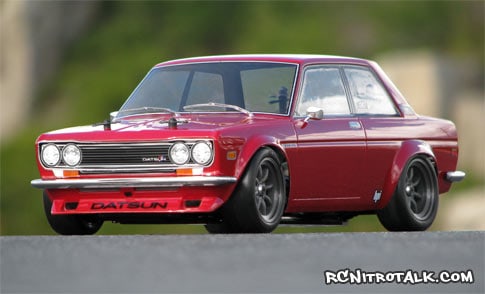 Experienced RC racers will be able to take one look at the Cup Racer chassis and see for themselves the performance potential of this all-new chassis! A huge array of tuning adjustments is possible using the standard kit parts.
The Cup Racer features full-time 4WD, a super-stiff chassis, oil-filled shocks and inboard front shocks, plus as the ability to independently adjust suspension settings such as caster, camber, track width, roll center, wheelbase, anti-dive, anti-squat, droop and much more! If you like your cars to drive as well as they look, the Cup Racer is for you!
From the very start, the True Ten scale Cup Racer was engineered for top-level performance at a reasonable cost – while still maintaining the true-to-scale look that scale modelers desire. To accomplish this, HPI designers have taken it upon themselves to perfect concepts that long-time HPI owners may recognize, but haven't seen in their ultimate, final form.
With the Cup Racer, you can find elements of past HPI achievements put together to make the ultimate scale RC enthusiast's machine – ready for your hands to assemble and create the magic that is radio control modeling.
To get the full appreciation of the design quality of any model car, you really have to build it from the ground up. By seeing how every part works in perfect harmony with the rest of the car, you will understand and truly appreciate the time and skill that went into its engineering. This is why the Cup Racer is available as a build-it-yourself kit only. With just a few tools you will build the ultimate scale model chassis, ready for display, playing about or even all-out racing!
Part #: 100595 – HPI CUP RACER 1M KIT WITH DATSUN 510 BODY
MSRP: $349.00