In the past if you wanted to have a competition ready rock crawler you had to buy piece by piece and hope they fit together. Well good bye yesterday hello today, Axial has just introduced their new Axial AX10 Scorpion Rock Crawler Kit and this thing was designed around competition in mind.
The AX10 Scorpion axles have been specially designed with features not normally found on other rock crawlers. Everything from the axle strength, pinion angle, caster, and ground clearance were taken into consideration, the result is a stronger better axle that will outperform the rest. An aluminum diff locker is even included along with hardened drive shafts and axles.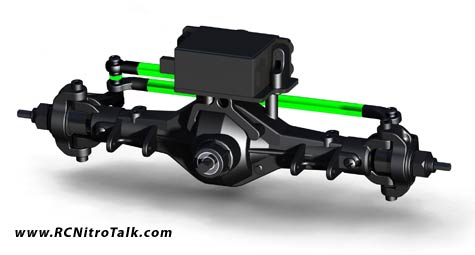 The AX10 Scorpion chassis is lightweight and stiff made from twin 2.0mm aluminum side plates and tied together with aluminum posts and a molded nylon transmission/skid plate. The Axial AX10 Scorpion chassis was made small and compact to cut as much weight as possible. A simple battery/radio tray makes installation of your electronics quick and easy.
The Axial AX10 Scorpion transmission was designed to place the weight of the motor as low as possible while still allowing a wide range of gearing choices. The overall transmission ratio on the Axial AX10 Scorpion can be adjusted from 15:1 all the way up to 74:1 using different pinion/spur gear choices. The AX10 Scorpion transmission is locked with no differential action and features hard anodized aluminum out-drive shafts.
Super long shocks offer a wider range of articulation as well as an optional range of spring choices so you can tune your Axial AX10 Scorpion crawler to work on any terrain. All suspension links are made from lightweight and strong aluminum. The Axial AX10 Scorpion driveshaft is made from a strong composite material and features hardened metal yokes.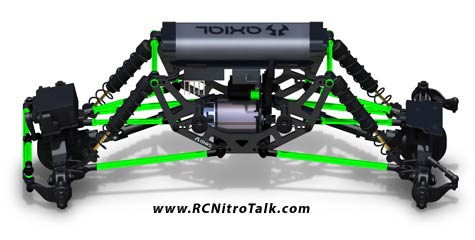 Axial AX10 Scorpion Features
Complete competition ready kit
All new axles that feature an improved driveshaft angle and caster as well asclass leading steering throw
Aluminum Chassis plates with a molded nylon skid plate
Ultracompact and lightweight transmission
Fulltime locked four wheel drive
FullBall bearings
Overallgear ratio range from 15:1 to 74:1
Transmission: 2.6:1; center mounted
Differentials: Locked style (spool)
Transmission: Single-speed
Tires: Axial 2.2 Rock Lizards
Wheels: Axial 2.2 Rockster Beadlocks
Suspension: 3 Link
DriveShafts: Universal front and rear composite
Axial AX10 Scorpion Chassis
Wheelbase: 304mm~320mm (12″~12.6″)
Width: 254mm (10″)
Height: 156mm (6.125″)
Weight: 1588g (3.5 lbs)
Articulation: 70 degrees
GroundClearance: 79mm (3.125″)
Axial AX10 Scorpion Body
Length: 438mm (17.25″)
Width: 181mm (7.125″)
Height: 133mm (5.25″)
Axial AX10 Scorpion Electronics (Not Included)
Radio: 2 Channel
Servos: 1 (Standard Size)
Speed Control
Motor: 540/550 Size
Battery: 7.2v Stick Pack
Part #: AX90001 – Axial AX10 Scorpion 1/10th scale Rock Crawler
MSRP: $425.00
Come discuss this new Axial AX10 Rock Crawler in our RC Crawlers forum!