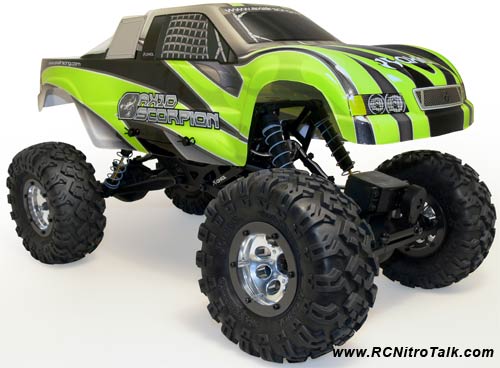 Axial has just taken the extremely popular Axial AX10 Scorpion chassis and created a Ready-to-Run truck with two different configurations!
The factory configuration is a 20t pinion with the rear axles locked allowing you to attack the track at full speed. Want to take it slow? All you have to do is swap out the 20t pinion with the already supplied 14t pinion gear and install the front axle lockers (parts also included), this second setup allows you to get the RC rock crawling performance you're looking for!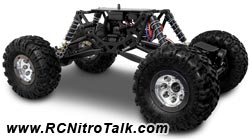 The chassis of the Axial AX10 Scorpion RTR (AX90002) is constructed from 2.5mm aluminum side plates to provide a stiff and durable chassis. The Axial AX10 Scorpion RTR also includes solid rear axles that feature improved driveshaft angle, castor, and class leading steering throw. Molded skid plates with round edges prevent hang-ups and protect the chassis from rocks.
The Axial AX10 Scorpion RTR is powered by an Axial 27t electric motor and controlled by a durable forward and reverse electronic speed controller. The slipper clutch reduces gear wobble for a more efficient drivetrain. Allowing the Axial 27t electric motor to work more efficiently and greatly enhances the durability of the drivetrain on the Axial AX10 Scorpion RTR.
To top it all off the Axial AX10 Scorpion RTR includes full ball bearings, satin finished beadlocks (No messy glue!) as well as a pre-painted body! The Axial AX10 Scorpion RTR is truly ready to crawl!
Axial AX10 Scorpion RTR Chassis
Wheelbase: 304mm~320mm (12″~12.6″)
Width: 254mm (10″)
Height: 156mm (6.125″)
Weight: 1588g (3.5 lbs)
Articulation: 70 degrees
Ground Clearance: 79mm (3.125″)
Axial AX10 Scorpion RTR Body
Length: 450mm (17.75″)
Width: 190mm (7.50″)
Height: 125mm (5.00″)
Axial AX10 Scorpion RTR Electronics
Radio: 2 Channel
Servos: 1 Hi-Torque (Standard Size)
Forward/Revers ESC
Motor: 27T 540/550 Size
Required Items for the Axial AX10 Scorpion RTR
(1) 7.2v Stick Pack Battery
(8) AA size Batteries
Part #: AX90002 – Axial Scorpion Rock Racer – 1/10 Scale Rock Crawler – Electric – RTR
MSRP: $475.00
Discuss the new Axial AX10 Scorpion RTR in our RC Rock Crawlers forum.