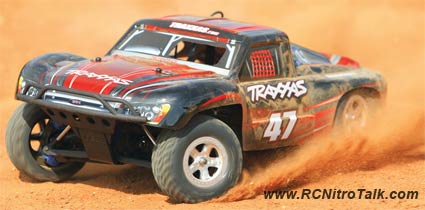 It was only a few months ago when Traxxas released their Traxxas Slash 2WD Truck, well now Traxxas is taking same truck and giving it 4WD and a nitro engine, the new truck is now called the Traxxas Slayer!
The new Traxxas Slayer features a Revo like chassis that is uniquely made from a single sheet of T6 hardened 6061 aluminum and then anodized with a durable titanium tone finish. The unique chassis design includes an integrated engine cradle and deep central channel gives the Traxxas Slayer incredible strength while reducing weight.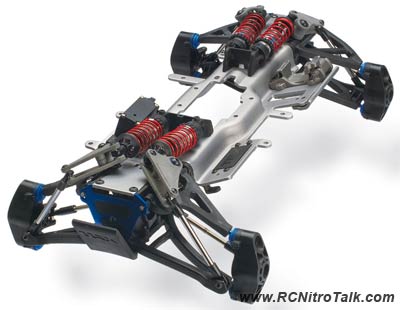 Traxxas has included their popular TRX 3.3 racing engine with the Traxxas Slayer. The TRX 3.3 is a high performance nitro engine with a composite slide carburetor, blue anodized cooling head, and IPS crankshaft with muli-port rear exhaust. Speaking of exhaust the Traxxas Slayer also includes a mirror polished dual chamber aluminum pipe. The TRX 3.3 is also equipeed with a Traxxas EZ-Start electric starting system so to get the TRX 3.3 started is as easy as pushing a button.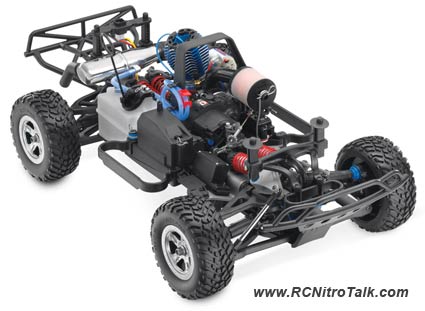 Traxxas Slayer Features
Scale dimensions and looks of actual short course off-road race trucks
Chassis nerf bars absorb impact and support the body
Scale front and rear tube-style bumpers
45+ mph top speed out of the box; capable of 50+ mph with optional gearing
Larger 150cc Revo fuel tank extends run time
Digital high-torque, ball bearing steering servo delivers 125 oz-in & 0.16-sec transit time
Aluminum GTR shocks
New high-volume dual-stage air filter
Tight-handling progressive-2 rockers
Titanium-anodized chassis and chassis brace
Compact receiver and battery box with integrated personal transponder mount
Blue-anodized antenna crimp nut
Four channel micro receiver
Compact throttle servo mount with air filter support
Two-speed forward only transmission
Part #: 5908 – RTR Traxxas Slayer 4WD Racing Truck
Discuss the new Traxxas Slayer in our General Nitro Talk forum.