Team Losi 1/10 Comp Crawler
RCTalk is supported by our readers. When you purchase through links on our site, we may earn an affiliate commission. Learn more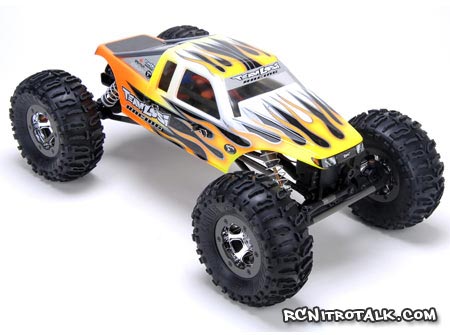 The Team Losi 1/10 Comp Crawler incorporates real engineering elements from full-size rock crawling competition, the Losi 1/10 Comp Crawler represents the pinnacle of RC rock crawling design. Every part, every feature and every inch is designed to mimic real-world competition platforms, resulting in the most advanced 1/10th scale RC crawler ever developed!
The list of innovations that make the Team Losi 1/10 Comp Crawler an RC revolution is long, and it starts with a solid foundation. The TVP chassis with adjustable upper shock mounts offers unbeatable stability and rigidity in a durable, lightweight design. The result is confident handling over any terrain and outstanding suspension articulation. And Team Losi Racing has gone one step further, by offering this innovative crawling chassis pre-built and tuned right out of the box. All you have to do is add the electronics of your choice and paint the included Lexan Grapler Pro body.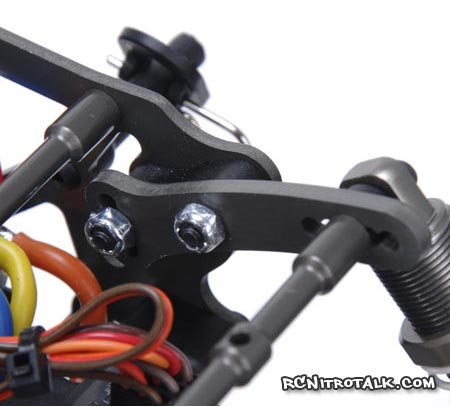 Team Losi Comp Crawler is the first rc rock crawling platform in the industry to offer a revolutionary front and rear "dig" transmission. The use of an optional third channel setup allows the front or rear drive axle to be disengaged, locking the wheels in place and acting as a steering brake for precise lateral movement on and over obstacles. The transmission case of the Team Losi Comp Crawler has been fitted with adjustable servo mounts that will allow for the use of most mini servos and includes an aluminum servo arm. The third channel on a 3-channel radio (such as the Spektrum DX3R) allows the full use of the DIG transmission, and also requires a micro servo installation for actuation. If you do not have a 3-channel radio system or extra servo there is no need to worry – the Team Losi Comp Crawler will function with full time 4wd with our without a dig servo hooked up.
The solid axle setup on the Comp Crawler offers a significant reduction in flex for improved performance. Inside, the axles utilize a worm gear drive for outstanding precision in throttle control and maneuverability. Another benefit of the worm gear drivetrain design is the elimination of the torque twist commonly found in shaft driven rock crawlers. As a result, the Comp Crawler stays in contact with the ground for uninterrupted grip.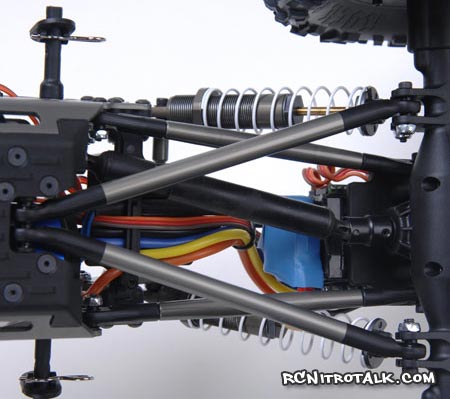 The Team Losi Comp Crawler features a 4 link suspension layout that offers 70 degrees of suspension articulation. This specially designed 4-link suspension setup is used in combination with the twin vertical plate chassis to reduce axle swing and eliminate side-to-side movement for increased steering and maneuvering precision. 7mm diameter aluminum suspension links are hard anodized and triangulated to the center of the chassis for better balance front to rear when the suspension starts to twist. 4′ Aluminum threaded shocks with Titanium Nitride shafts allow the Team Losi Comp Crawlers suspension to articulate without any binds.
Designed with the demanding conditions of competition rock crawling in mind, the steering system on the Comp Crawler provides precise control as well as class leading performance with 45 degrees of steering throw. The front caster blocks feature 10 degrees of caster and the spindles are attached with heavy duty steel king pins. The steering geometry also allowed Team Losi Racing engineers to raise the main steering link closer to the axle housing, giving the Crawler additional clearance when approaching obstacles.
Just like full-size crawlers, the Team Losi 1/10 Comp RC Crawler utilizes functional beadlock wheels with aluminum outer rings. The functioning beadlock allows for the tires to maintain more contact and traction, while the aluminum outer rings provide evenly distributed pressure for unbeatable tire mounting. Losi's National Champion Rock Claws 2.2 Tires come mounted on the beadlock wheels, complete with foam inserts. The added ground clearance from the Rock Claws tires makes conquering any and all courses easier.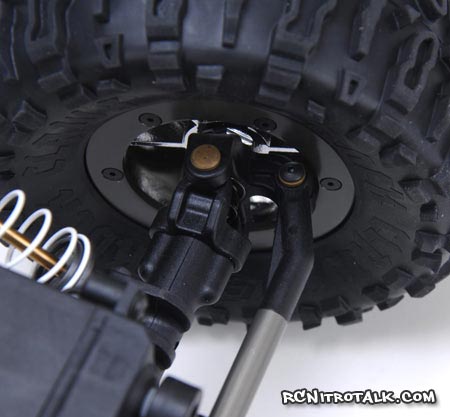 Team Losi Comp Crawler Features:
Compact Front & Rear Locking (DIG) Center Transmission allows the crawler to overtake obstacles with ease
Front and Rear Solid Axle with Worm Gear Drive
4-Link Suspension offers 70 degrees of articulation and minimizes front and rear axle swing, allowing for more precise handling
Zero Ackerman Steering provides class leading performance with 45 degrees of steering throw
Front and Rear locked differential provides full time 4wd
3-Piece 2.2″ Bead Lock Wheels with aluminum outer rings
National Champion 2.2 Losi Rock Claws Tires with foam inserts
Twin Vertical Plate Chassis with adjustable upper shock mounts
4″ Aluminum Threaded Shocks with Titanium Nitride (TiNi) Shafts allow the suspension to articulate without any binds.
Durable, telescoping CV drive shafts allow for increased steering range
Aluminum Upper and Lower Suspension Links for added strength
Lexan Grappler Pro body is optimized to USRCCA Rules and allows for clearance of the tires as they articulate
Race Roller Chassis is preassembled; simply add electronics, paint the body and go
Team Losi Comp Crawler Specifications
Type:Competition 2.2 Rock Crawler Race Roller
Scale:1/10 (2.2)
Length:17.5 inches (444.5mm)
Width:10.5 inches (266.7mm)
Wheelbase:12.5 inches (317.5 mm)
Weight:4.18 lbs. (1.9kg)
Chassis:Twin Verticle Plate
Suspension:4-Link
Tire Type:National Champion Losi Rock Claws 2.2
Wheel Size:2.2″ Bead Lock
Kit/RTR:Race Roller
Shock Type:4″ Aluminum with Titanium Nitride shafts
Body:Clear Lexan Grappler Pro
Part #: LOSA0051 – Team Losi 1/10 Comp Crawler
MSRP: $499.99
Discuss the new Team Losi 1/10 Comp RC Crawler in our RC Rock Crawlers forum.