Team Associated SC10 4×4 in kit form
RCTalk is supported by our readers. When you purchase through links on our site, we may earn an affiliate commission. Learn more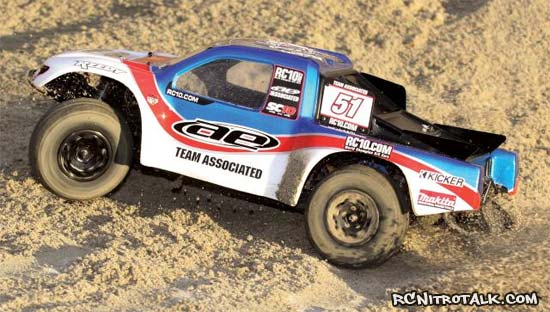 The highly anticipated, Team Associated SC10 4×4 Kit short course truck has finally been unveiled and unlike anything we've seen in a short course truck before. The Associated SC10 4WD kit is not based on any previous Team Associated chassis but instead a new platform was designed just for the SC10 4WD kit!
Associated designed the SC10 4×4 around a lightweight, low-drag belt driven system. The belt is thick and durable (5mm wide with 211 teeth). Due to the layout, the belt drives the front drivetrain only, while a standard 3-gear gearbox drives the rear end. The belt drive works and delivers explosive acceleration and yields a compact chassis layout, and reduced drivetrain friction. The belt also allows it to use 32-pitch gears with large teeth.
Associated designed the Team Associated SC10 4×4 from the ground up to handle abuse. Thick suspension arms, heavy-duty rod ends, 3mm hingepins, and large 32-pitch gears make fore a heavy duty platform. The inner camber-link ball studs pass through the shock tower mounts and thread into metal inserts below.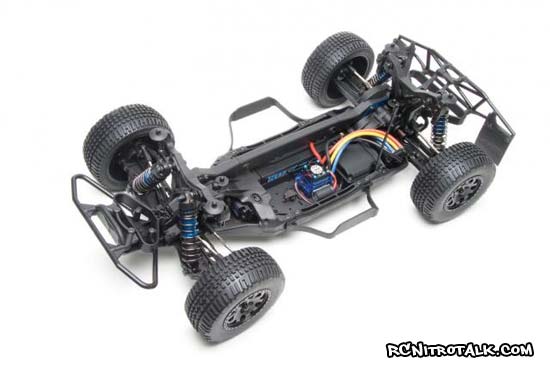 Only two screw heads are visible on the underside of the Team Associated SC10 4×4 chassis, and all of the components mount to the top of the chassis. Team Associated calls its new three-piece molded tub chassis a "low CG and low polar moment design." As the chassis pieces wear, you can replace each section individually. When assembled, the chassis forms a near glass-smooth bottom surface that will glide over ruts and bumps.
Associated SC10 4×4 Features
Unique dual gearbox drive train coupled together with a 5mm heavy duty belt system with external tension adjustment
32 pitch front and rear gearboxes with sealed fluid filled differentials
Decoupled center slipper clutch allows for front and rear wheel drive to slip independently, resulting in more traction and stability on bumpy track conditions
CVAs with captured drive pins and heavy duty 6mm alloy axles
12mm hex drive KMC replica wheels front and rear with aggressive short course racing tires
Championship short course racing body (clear), with Team Associated decal sheet
13mm blue aluminum big-bore threaded shocks with low friction X-ring seals
Composite modular tub chassis with Low-CG and Low Polar Moment design
Enclosed water-resistant receiver box, and removable ESC tray for easy clean up and maintenance
Ball bearing steering system with adjustable steering stops
All metric hardware and ball bearings throughout
Uses most 540 and 550 brushless motors
Required to Complete
R/C 2-channel surface frequency radio system
Battery pack (6 cell NiMh or 2 cell LiPo)
Battery charger (peak detection charger recommended)
Electronic speed control
R/C electric motor (550 size recommended)
Pinion gear
Tire glue
Paint for body
Steering servo
Team Assocated SC10 4×4 Kit Video
Part #: 90004 – Team Associated SC10 4×4 Kit
Discuss the new Team Associated SC10 4×4 in our RC Short Course Trucks forum!