Reedy 121VR-ST .21 nitro engine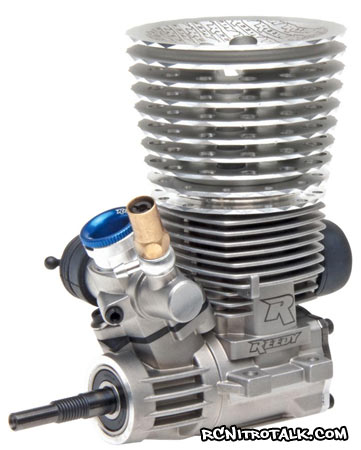 The long-awaited Reedy 121VR-ST Competition Nitro Engine has finally arrived! Extensively track-tested by Reedy factory drivers such as Ryan Maifield, Craig Drescher, Neil Cragg, and Richard Saxton, the VR-ST incorporates state-of-the-art features in a proven package.
The current Reedy 121VR engine has proven to be an economically priced, powerful race engine. The Reedy 121VR-ST .21 takes performance to an entirely new level with the addition of a balanced ADLC-coated crankshaft, ceramic rear bearing, lightweight piston, and ADLC coated wrist pin. An ultra-lightweight heatsink head with "diamond cut" fins improves cooling while lowering the center of gravity.
Reedy 121VR-ST .21 features
3+1 Port Chrome Plated Cylinder
High Silicon CNC-Machined Lightweight Piston
Knife-Edged 7075 Aluminum Connecting Rod
ADLC-Coated Wrist Pin
Chrome-Plated Back Plate with Turbo Scoop
Balanced Turbo Scoop Crankshaft with ADLC Coating and Silicone Insert
Precision Steel Front Ball Bearing
Precision Ceramic Rear Ball Bearing
Ultra-Lightweight Machined Aluminum Heatsink Head
Oversized Finned Turbo Head Button
Thermo-Insulated, Screw-Mounted 2-Needle Carburetor
7.0mm, 8.0mm, and 9.0mm Venturi Inserts
Part #: 801 – Reedy 121VR-ST .21 Buggy Engine
MSRP: $599.99
Available: Dec. 2010