HPI Savage XL Monster Truck
RCTalk is supported by our readers. When you purchase through links on our site, we may earn an affiliate commission. Learn more
In the never ending family line of Savages, HPI has done it again – this time this Savage truly is bigger, badder, and tougher. The HPI Savage XL!
The HPI Savage XL is bigger in every aspect than any other HPI Savage X. The Savage XL is 53mm longer, 25mm wider, taller, more ground clearance and tires that are nearly 7″ in diameter! The Savage XL is based on the practically indestructible Savage X chassis and features some impressive upgrades like thicker 3mm TVP chassis plates, 3mm alloy engine plate, machine-cut steel differential rings and pinion bevel gears, steel spur gear, heavy-duty clutchbell, extra heavy-duty dogbones, larger diff outdrives, machined brake hub, dual fiber disk brakes and much more!

Powering the super sized Savage XL is a super powered Nitro Star K5.9 engine! The 5.9cc (.36 cubic inch) engine delivers a ton of torque to turn the super sized 7″ tires. The massive K5.9 powerband found on the HPI Savage XL supplies the torque for getting the Savage XL up to speed quickly, and the curved manifold and aluminum tuned pipe get the most power out of the K5.9 engine. The K5.9 is fitted with a Roto-Start 2 electric starter system for easy starting. A vented heavy-duty clutchbell and aluminum 3-shoe clutch are standard equipment for tough and reliable power transfer.
To take advantage of every bit of power from the K5.0 Nitro Star engine, HPI also installed a 3 speed transmission on the HPI Savage XL. Metal gears with the new high-speed 3rd gear give you legendary durability, consistent shifting, quick acceleration and high top speed. The transmission is fully adjustable, so you can choose when the Savage XL will shift into higher gear!
The HPI Savage XL also features new upgraded parts such as heavy-duty bracing of all suspension parts, the hits can just keep on coming. Tough steel hinge pins and aluminum braces work with the high-impact nylon of the skid plates, bumpers and lower suspension parts to give the Savage XL a rock-solid foundation for ultimate mayhem!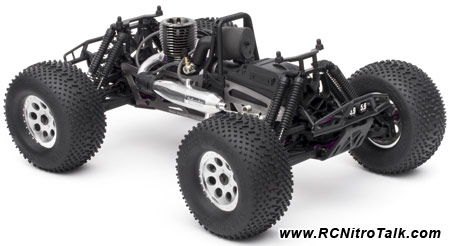 Just like the other Savage monster trucks, the HPI Savage XL uses double wishbone suspension to get the power to the ground and soak up jumps and more. With lightweight HPI Savage X-type suspension arms, tough molded upper links and super-tough hardware you have the peace of mind that comes with having control of the toughest monster truck around!
Part #: 10515 – HPI Savage XL RTR with Gigante truck body
MSRP: $1049.00
Come discuss the new HPI Savage XL in our HPI Savage forum!