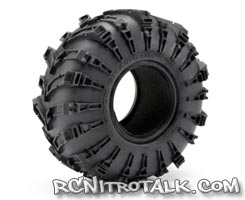 HPI has designed a new of set of R/C rock crawling tire called the HPI Rock Grabber. The Rock Grabber are a high grip tire designed just for professional rock crawling. The block tread pattern of the HPI Rock Grabber wraps all the way around the sidewall of the tire for extra grip in challenging conditions.
The HPI Rock Grabber tires are made from sticky S compound rubber and made to fit HPI rock crawling wheels using 6 hole lock rings to keep the tire firmly in place. Sold in pairs. Inner foams are included.
Discuss the new HPI Rock Grabber rock crawling tires in our RC Rock Crawlers forum!
Part #: 4896 – HPI Rock Grabber S compound tires (130x55mm/2.2in/2pcs).
MSRP: $35.00