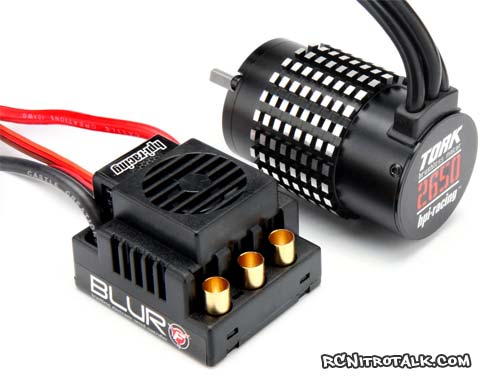 Looking to upgrade your already insane HPI Savage Flux? Well look no further, the HPI has just released their Flux HP 2650Kv brushless system which comes complete with the HPI Flux Blur ESC as well as the HPI Flux Tork 2650Kv brushless motor. Don't own a HPI Flux, no problem the Flux 2650Kv system can be used for a variety of brushless applications.
The HPI Flux Blur ESC can handle up to a 6S Lipo battery and is fully programmable with HPI's USB programming kit (#100573). The HPI Blur ESC is also equipped with large 6mm bullet connectors that helps deliver power to the motor while the integrated cooling fan keeps the Blue ESC cooled.
The massively powerful HPI Flux Tork 2650Kv brushless motor features extra large heat sinks to keep it cool, giant silicone wires to transfer the power, bullet connectors for easy installation, and a highly efficient (85+%!) design that makes enough power to do standing back flips. The HPI Flux Tork 2650Kv brushless motor will bolt right in to the HPI Savage Flux HP, and it can also be used in a variety of other brushless applications.
HPI Flux Blur ESC Specs:
25.2V maximum with Flux Tork 2200Kv brushless motor
16.8V maximum with Flux Tork 2650Kv brushless motor
Sensorless technology eliminates additional sensor wiring and complexity
Continuous: 120A*
Resistance: 0.0003 ohms per phase
Brake: Proportional with adjustable curve
Reversible: Yes – with lockout
Low Voltage Cutoff: Programmable
Size: 2.2" x 1.9" x 1.4"
Weight w/wires: 121g (4.26 oz)
Connector: 6.5mm bullet
HPI Flux Tork 2650Kv brushless motor specs:
Max Input Volts: 16.8
Motor Diameter: 39.98mm
41.78mm with fins
Motor Length: 68mm
Shaft: 5mm
Bearings: Oversize ABEC-1 front and rear
Connector: 6.5mm
Model #: 102701 – HPI FLux HP 2650Kv BRUSHLESS SYSTEM
MSRP: $499.00
Discuss the new HPI Flux 2650 brushless motor system in our RC Engines and Motors forum.