RCTalk is supported by our readers. When you purchase through links on our site, we may earn an affiliate commission. Learn more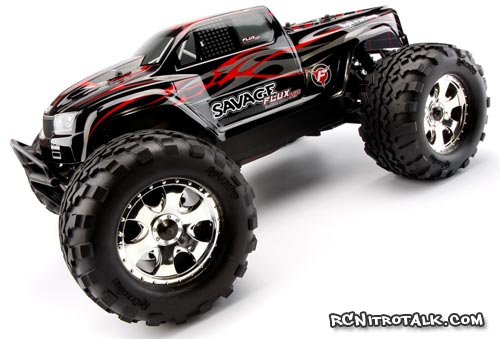 HPI has taken their ever popular Savage to another level, brushless! The HPI Savage Flux HP uses the proven HPI Savage X chassis as it's base. The big block nitro engine has been replaced with a Flux Tork 2,200Kv brushless motor and a powerful Flux Blur ESC in place of the fuel tank. Twin battery boxes to hold 6 to 8 cell battery packs or even dual LiPo batteries!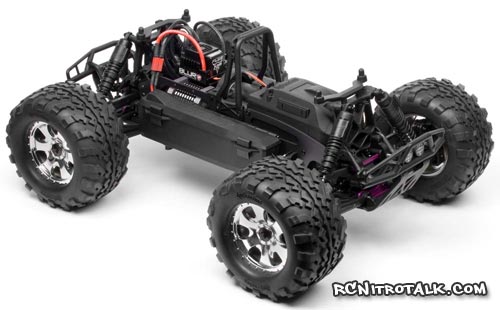 Continuing to build off of the HPI Savage X, the HPI Savage Flux HP also features a tough all metal gear transmission gears and machine cut diff gears. To complete the package the HPI Savage Flux's whole drivetrain uses rubber-sealed ball bearings long part life and longer run times. The extra thick dogbones won't let you down when the going gets tough! You'll be able to commit the full power of the Tork 2200 motor to the ground without worrying about drivetrain damage!
Because the HPI Savage Flux HP is lighter in the HPI Savage X, HPI has used four huge Big Bore shocks give the suspension action you need to get out and blast through the roughest of tracks or off-road terrain. The extra-large capacity of the big bore shocks on the HPI Savage Flux gives you extra control and damping action so you have the driving feel that makes off-road driving so much fun.
HPI Savage Flux Tork brushless motor packs so much punch the Savage Flux HP can do standing backflips or you can use the included wheelie bar (#85245) to make the Savage Flux pull non-stop wheelies up and down the street.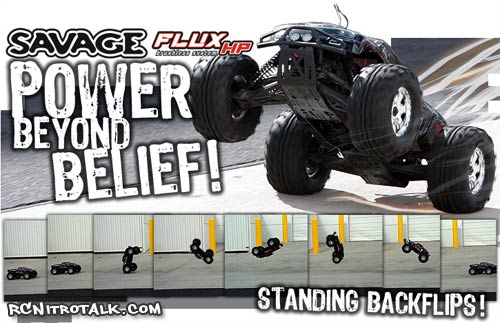 The HPI Savage Flux HP is loaded with features that make this the perfect choice for anyone looking for a massively fun, plug-and-go monster truck! Everything is assembled and tuned for you by professionals – diffs, shocks, suspension and more are perfect before you even open the kit and with many of the top Savage options already installed, so you don't have to do a thing to get going fast!
Part #: 100646 – HPI Savage Flux RTR
MSRP: $1,149.00
Discuss the new HPI Savage Flux HP in our HPI Savage Forum!