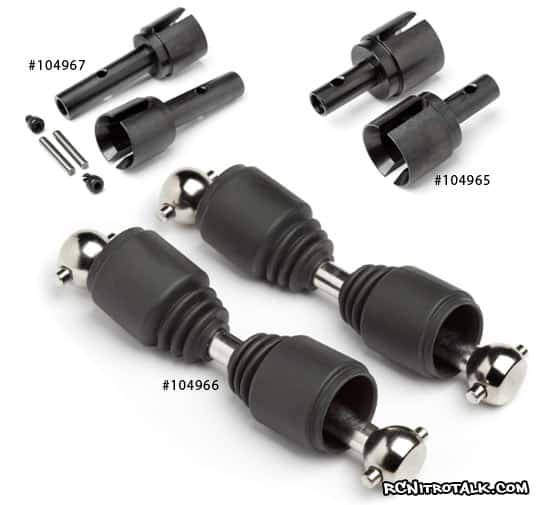 The HPI Baja 5SC and Baja 5SC SS already have the super heavy drivetrain components and now your HPI Baja 5B and Baja 5T can too.
Seriously beef up your HPI Baja 5B and 5T drivetrain with these Super Heavy Duty Drive Shafts and Axles. The drive shafts are thicker diameter than the stock drive shafts and the new axles are larger in size to accommodate the Super HD Drive Shafts – specially designed for extreme driving and high horsepower engines!
The Super Heavy Duty parts must be used together because the diameter of the drive shaft is bigger, so you will also need 104963 (or 10965) and 104967 if your vehicle does not already come with those parts. The rear arm may need to be trimmed for clearance of the drive shaft as well, please check the clearance carefully to avoid binding in the drivetrain while driving.
HPI Baja Super Heavy Duty Components Part Numbers
#104963 COMPLETE HD ALLOY DIFF GEAR SET (BAJA 5SC)
#104965 SUPER HEAVY DUTY DIFF SHAFT 25x48mm (2pcs)
#104966 SUPER HEAVY DUTY DRIVE SHAFT 18x116mm (2pcs)
#104967 SUPER HEAVY DUTY DRIVE AXLE 25x70mm (2pcs)
Discuss the new HPI Baja Super Duty drivetrain components in our Large Scale R/C forum!