HPI Baja 5SC now in kit form
RCTalk is supported by our readers. When you purchase through links on our site, we may earn an affiliate commission. Learn more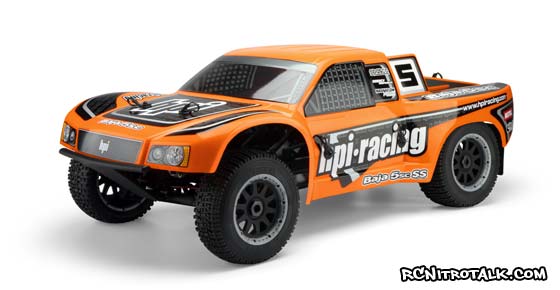 HPI is adding another kit to their ever expanding line of large scale Baja's, the HPI Baja 5SC SS kit comes as an unassembled kit that you get to build from the ground up. If you enjoy the process of custom building your own R/C vehicles, the HPI Baja 5SC SS is the kit for you.
The HPI Baja 5SC SS is more than just a kit version, it's packed with extra speed and a long list of option parts. The Baja 5SC engine has been upgraded to the high performance Fuelie 26s engine, coupled to a high flow aluminum tuned pipe with steel tubular header. Combined with the 8,000 RPM clutch, the HPI Baja 5SC SS kit has some serious grunt to help propel it to speeds in excess of 40MPH!
To withstand the additional power, the Baja 5sc SS kit drivetrain has been upgraded to Super Heavy Duty specs. Massive 9mm dogbones are paired up with super heavy duty diff shafts and drive axles for a bulletproof drivetrain. The front end of the truck has also been beefed up with the addition of new HD front wheel hubs that eliminate the use of e-clips. Updated rear hubs aid in both the durability and adjustability of the truck, allowing you to easily go from 0 to 4 degrees of rear toe-in to precisely tune the handling of your HPI Baja 5SC SS kit.
Traction comes from high performance and extremely sticky HB Rodeoo tires mounted on new TR-10 wheels. The asymmetric tread pattern mirrors the design of full-size off-road racing tires for authentic looks, and the specially blended HB rubber compound gives high grip and long life on a variety of off-road surfaces. The true bead-lock TR-10 wheels look great and allow you to mount and change tires without the need for super glue.
To top everything off we include a clear SC-1 body that you can paint just the way you want for a truly custom truck. The realistic short course body comes pre-cut with body post holes and cooling holes already in place. Giant pre-cut vinyl decals are also included, complete with stripes, logos, front grill, and lights.
HPI Baja 5SC Video
(RTR version shown in video)
HPI Baja 5sc SS kit features
Front and rear sway bars
Modified rear shock tower brace
Heavy duty rear dogbones
Aluminum alloy diff case
VVC/HD shock set
Aluminum tuned pipe
Fuelie 26s engine, 26cc
Metal gear steering servo
Clear pre-cut body
8,000 RPM clutch
Short course bumpers
Heavy duty beadlocks
Part #: 105734 – HPI Baja 5sc SS kit
MSRP: $2099.00
Discuss the new HPI Baja 5SC SS Kit in our Large Scale R/C Forum