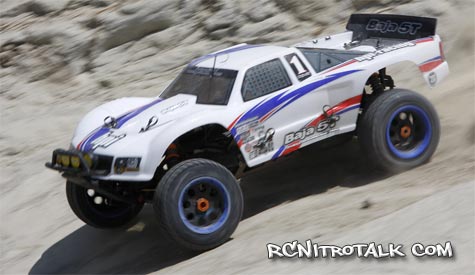 Well it's official, just a day after we showed you the photo's of a possible Baja 5T HPI has officially released information that there is in fact a Baja 5T and it's coming soon!
Inspired by the latest Baja 1000 desert trucks, the HPI Baja 5T is a RTR 1/5th scale off-road truck that has an aggressive truck look, new high performance parts, along with the compatibility of many of the existing Baja 5b parts and hop-up parts.
Under the new Baja 5T truck body is the same 26cc engine with an 8,000 RPM clutch that's found in the Baja 5B SS. However, instead of the aluminum high flow exhaust pipe found on the Baja 5b SS, the Baja 5T sports a similar exhaust found on the first Baja 5b RTR. The 26cc "fuelie" engine will send the Baja 5T packing at more then 40 MPH.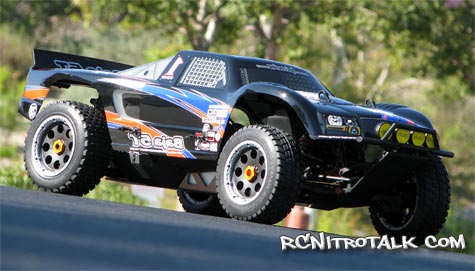 HPI Baja 5T Features
Truck Body Mounts – Tough nylon construction and 8 mounting points keep the truck body securely mounted, fully adjustable design for compatibility.
Extended Roll Cage -Extra bracing for durability, extended upper roll cage for spark plug protection.
Outlaw Truck Wheels – 8-hole design, tough nylon construction, authentic bead-locks for durability and tuning options.
Desert Buster Tires – Large diameter truck tires for realistic looks. Heavy duty rubber compound and thicker carcass for extra durability.
Front & Rear Sway Bars – Sway bars are used on the front and rear suspension for precise handling and stable steering feel.
Modified Rear Shock Tower Brace – Relocates shocks for increased rear suspension travel for stable performance on rough surfaces and soft landings over jumps.
Black Anodized Aluminum Parts – Black anodized 4mm 6061-T6 aircraft grade extruded and CNC milled chassis, orange and gunmetal anodized alloy parts give the Baja 5T an aggressive look.
Part #: 10620 – RTR BAJA 5T WITH 5T-1 BODY
MSRP: $2399.00
Come talk about the HPI Baja 5T in our Large Scale RC forum.