Hard Bodyz (HBZ) has just released one sweet looking rc rock crawler 2.2 tube chassis called the Warthog and is available in a comp and pro comp version. The HBZ Warthog is a direct bolt on to the Axial AX-10 Scorpion and does not require any modifications! The HBZ Warthog also works with all standard 4″ shocks and includes all body panels, graphics, and hardware.
The HBZ Warthog features carbon fiber sideplates that allow for multiple positioning for linkage. The compact size of the HBZ Warthog reduces the chances of hangups and keeps the center of gravity low to the ground. The bolt together design allows advanced users to build their own sub chassis or skidplates for different transmission and suspension designs.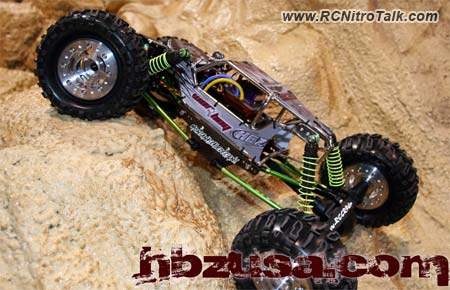 The Warthog is a full Competition Legal Tuber Chassis approved by the USRCCA. It meets all the required standards for competition.
HBZ Warthog Specifications:
Warthog Comp
Wheelbase: 12.5″
Material: 3/16″ tube steel 1/8″ solid steel
Weight: 8 ounces
Weld: Mig
Finish: Duplex Chrome or Powdercoat
Warthog Pro Comp
Designed Wheelbase: 12.5″
Material: 3/16″ Stainless steel, 1/8″ solid stainless steel
Weight: 6.5 ounces
Weld: Tig
Finish: Hand Polished to perfection
The difference between the HBZ Warthog Comp and Pro Comp is that the Warthog Pro Comp is stainless steel which is stronger and is tig welded. The Pro Comp is also hand polished to perfection allowing you to easily polish it over and over after dings, dents, and scratches start to appear by simply using your Dremel and polishing wheel. The Pre-painted graphics kit will also be a different style, and most of all the HBZ Warthog Pro Comp is lighter!
Comp: $189.95
Pro Comp: $219.95
Discuss the HBZ Warthog in our RC Rock Crawlers forum.