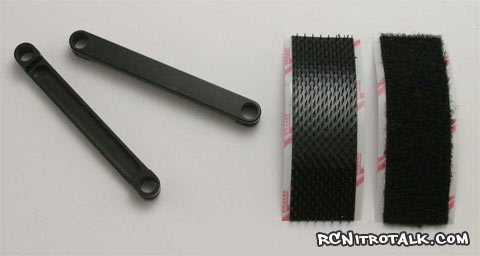 East End Machining Patent Pending body mount system mounts using the stock body posts and clips on your AX10 rock crawler.
East End Machining CNC machined crossbar allows you to securely fasten your crawler body using Industrial Strength Velcro brand fasteners. This isn't the Velcro your Mom buys at the sewing shop. This stuff is strong enough that you can swing the truck around by the lid.
East End Machining did lots of nasty things to their test truck during the testing phase. Including dropping it from 4 feet heights upside down onto the lid and rolling down countless total feet of rock face. The test truck will never be the same but the body system is awesome!
This method of body mounting eliminates body posts that stick through the side of the body. Since everything is self-contained under the body there is nothing sticking out the side to cause you to get hung up on obstacles and rocks.
Assembles in minutes. Some bodies may require trimming of body mounts. Optional short body posts are available for narrow & comp style bodies.
Discuss EEM's velcro body mount in the RC Rock Crawlers forum.