Axial 32RR-1 Nitro Engine
RCTalk is supported by our readers. When you purchase through links on our site, we may earn an affiliate commission. Learn more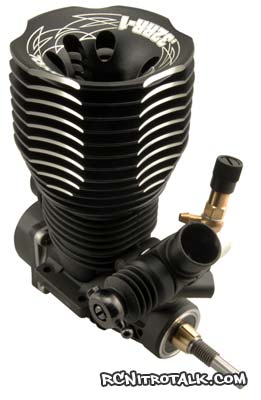 The new Axial 32RR-1 Nitro RC engine is based off of the Axial .28RR engine. This engine is designed to be more efficient and output more power than the previous .32 engines while still delivering monster torque! The Axial 32RR-1 features a true ABC sleeve construction for the most durability as well as a composite 9.0mm slide carburetor with optional 8.0mm and 8.5mm venturi's.
The Axial 32RR-1 carburetor features quick and easy needle settings for resetting to factory specifications. Axial has also given the 32RR-1 nitro rc engine a reliable pull start so you don't have to carry around a starter box. The aluminum machined heat sink head has an increased surface area for better cooling. To top it off, Axial has given the Axial 32RR-1 engine dual bushing aluminum connecting rod as well as a balanced crankshaft for improved RPM and efficiency.
Axial 32RR-1 Nitro Engine Specs

| | |
| --- | --- |
| Size | .32 cubic inch /5.2cc |
| Maximum RPM | 37500 RPM |
| Bore | 19.5mm |
| Stroke | 17.5mm |
| Construction | ABC (Aluminum Brass Chrome) |
| Heat-sink Head | Axial black anodized |
| Carburetor | 9.0mm composite slide carburetor |
| Carburetor Adjustments | 3 Needle, flush settings |
| Case | Black aluminum, rear exhaut |
| Connecting Rod | Dual bushings |
| Sleeve | 6P |
| Starting system | Pullstarter |
| Recommended Glow Plug | Cold-5 power plug |
Part #: AX0332 – Axial 32RR-1 Engine
MSRP: $280.00
Discuss the new Axial 32RR-1 nitro engine in our RC Engines and Motors forum.