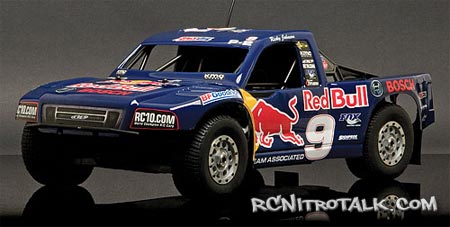 It's been rumored for a while, then teaser photo's started showing up and now finally Team Associated has officially announced news about the Associated SC8. The Associated SC8 is a 1/8th scale, 4WD nitro powered CORR style truck.
The Team Associated SC8 is built off the extremely popular RC8T truggy chassis with changes made to meet the scale specifications of full size CORR trucks. The Associated SC8 features scale suspension travel, mud flaps, and even a full tube roll cage.

Underneath the pre-painted body and tube roll cage lies a Team Associated Pro .28 nitro engine as well as the XP3D digital FM radio gear. The differentials and shocks come filled with the proper silicone fluids, making it faster and easier than ever to get Team Associated SC8 performance out of the box and into the dirt!
Features of the Team Associated SC8
Authentic, custom painted and finished scale licensed short course truck body.
Mounted and assembled scale wheels & tires with foam inserts and bead guards.
Functional full roll cage with integral dirt shields.
XP3D Computerized Digital 3-Channel FM Radio System with 10-model memory.
Powerful Pro.28 engine with slide carburetor and dual stage air filter.
Pro-Start hand-held starting system.
S2008 metal gear high-torque steering servo.
Hard-anodized shock bodies, 4mm shock shafts, and protective rubber boots.
Hard-anodized 3mm thick 7075 aluminum chassis.
Team Associated 2-chamber tuned muffler.
3mm low-profile black anodized aluminum shock towers.
3mm black anodized aluminum steering rack with ball-bearing steering system.
Sealed radio box with thread-through molded antenna mount.
Fuel bottle and glow igniter included.
Part #: 80920 – SC8 Short Course Race Truck, Red Bull
MSRP: $699.00