T-Bone Racing Traxxas Stampede 4X4 Front Bumper Review
RCTalk is supported by our readers. When you purchase through links on our site, we may earn an affiliate commission. Learn more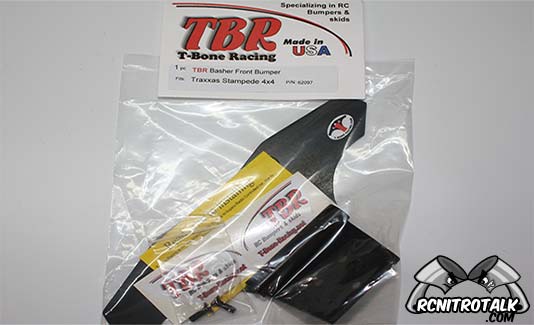 The stock Traxxas Stampede 4×4 bumper is a little high and a bit narrow and after a number of upgrades to my Stampede 4×4 it left a bit to be desired. That's where T-Bone Racing comes in, remembering how well the T-Bone Racing Mini-Revo front bumper worked I decided to checked to see if T-Bone Racing had a front bumper for the Traxxas Stampede 4×4 and sure enough they did, now I just hoped the Stampede bumper works just as well…
The T-Bone Racing front bumper for the Stampede 4×4 was delivered quickly and came in simple packing with the bumper, two screws, T-Bone Racing decal, and disclaimer (stating to make sure to use the proper screws and a life time warranty). The first thing I noticed was the size of the bumper, it's obviously much wider than the stock bumper and it appears to be pretty beefy and thick.
Installing the T-Bone Racing bumper
Installation of the bumper is incredibly easy (as is all work on the Stampede), simply remove the three screws holding the stock bumper/skid plate.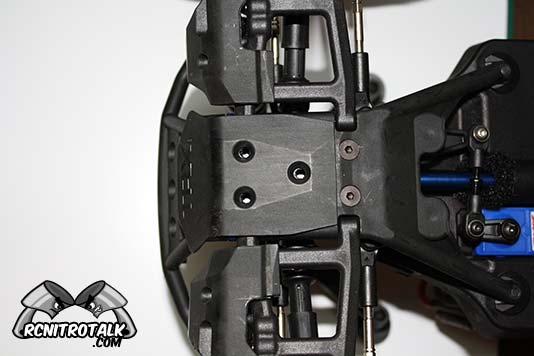 Next place the T-Bone Racing bumper over the top of the stock Stampede bumper then use the two included screws in the locations circled below. Use your stock screw in the last remaining spot.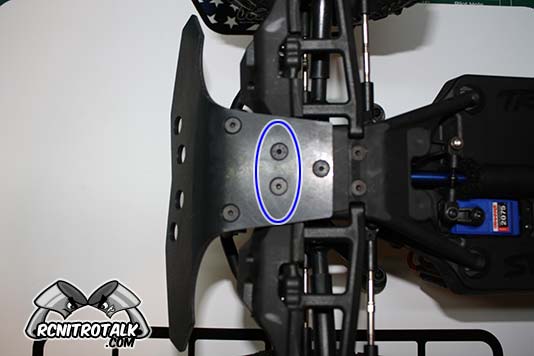 It's just that simple. After installation I did check to ensure the T-Bone Racing bumper did not hamper the suspension or a-arm travel and there was none. Even pulling the a-arms down they at no time touched the skid plate portion of the bumper.
Flipping the truck back over you can obviously see that the T-Bone Racing front bumper is much wider than the stock stampede 4×4 bumper and sticks out further then the stock bumper. Where as the stock bumper was very close to the chassis the T-Bone Racing Stampede Bumper is now providing more of a buffer to absorb impacts.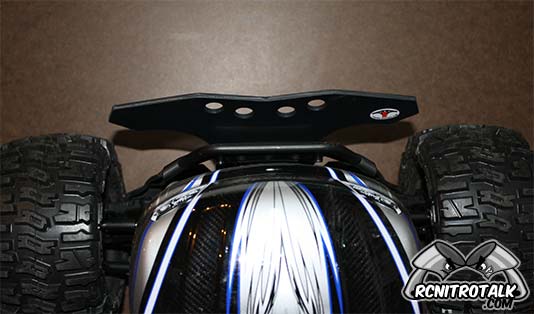 T-Bone Racing Bumper Verdict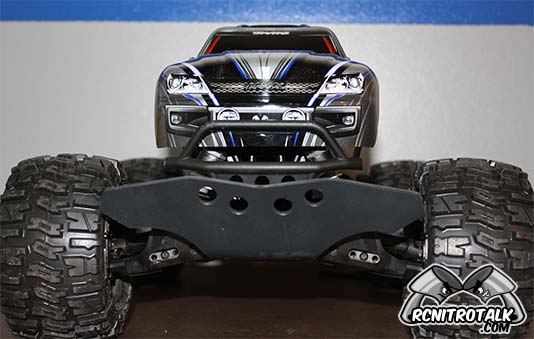 After the install I did take the Stampede 4×4 out to for a few test runs and the bumper held up just fine from multiple jumps off the bike ramp, off the back deck, and as much as I hate to admit it even an impact to one of the tree's in the back yard (they always tend to jump out of no where). Granted I wasn't trying to break the bumper or my Stampede, the T-Bone Racing front bumper held up great.
Even before installing the bumper you can tell the T-Bone Racing is very strong, thick, yet surprisingly flexible. Which all explains why the T-Bone Racing Stampede 4×4 front bumper will easily roll with the punches and if you do manage to break the bumper somehow, T-Bone Racing will replace it for free under their lifetime warranty.
If you're looking for extra protection or just a different look on your Stampede 4×4 then I'd HIGHLY recommend taking a look at T-Bone Racing. One last thing I'd like to point out, T-Bone Racing is Made in the USA – which in my opinion is great and something you don't see very often especially in this hobby!
Manufacturer: T-Bone Racing
Part #: C101-TBR
Price: $13.95