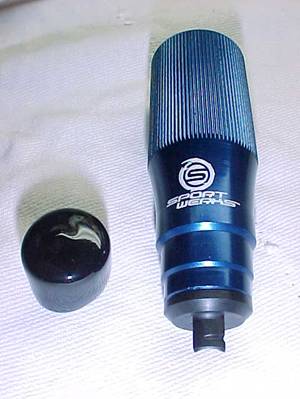 What you get
-EZ-On Clutch Spring Tool
-Instructions for use on back of packaging
Features
-Anodized Aluminum Handle with hardened steel claw end
-Rubber protective cap for claw end

General Impression
This is fairly simple tool to aid in the installation and removal of spring-loaded clutch shoes. Handle is hollow to reduce weight and is sized perfectly to fit comfortably in the palm of your hand during use.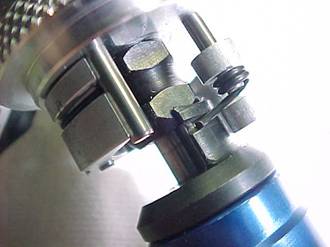 To use, you insert the clutch shoe with spring halfway onto the flywheel pin. Make sure the spring itself if over the pin. Now insert the tool on to the crankshaft and align the notch on the steel claw with the spring end. Give the tool a twist counter clockwise which will put the spring into the proper location for installation. Now push inward sliding the clutch shoe completely onto the pin and setting the spring into place.
The tool can also be used to remove clutch springs. You slide the tool completely onto the crankshaft and under the shoe you want to remove. Give the tool counter clockwise twist which will lift the spring off the clutch nut. Now use you thumb to press down on the shoe and pull the tool off the shaft taking the shoe with it.
It takes little effort and is very easy to use. I installed all the shoes onto a 4-shoe clutch in under a minute.
I must mention that while the tool worked flawlessly with the aluminum shoes I was installing, it did damage one of the composite shoes I attempted to remove on my old clutch. The steel end of the tool dug into the soft shoe and put a gouge into it. I eliminated the problem by slightly lifting the shoe while I twisted the tool. This is not an issue when you are installing composite shoes.
The Ups
-Lightweight
-Fits in palm of your hand nicely during use
-Easily installs and removes clutch springs in seconds
-Inexpensive (retails for $19.99)
The downs
-Rubber cap seem a bit cheesy and is not up to the quality of the tool. An aluminum cap would have been better.
-May damage composite shoes if used for removal of springs
Where to get it
-Horizon Hobby distributes the tool and it can be purchased directly from them at www.horizonhobby.com you can also try getting at your Local Hobby Shop or other online dealers.
Final Rating 10/10 – An excellent addition to your tool box and indispensable for installing or removing those pesky little clutch springs.
Thanks RobMob for this review