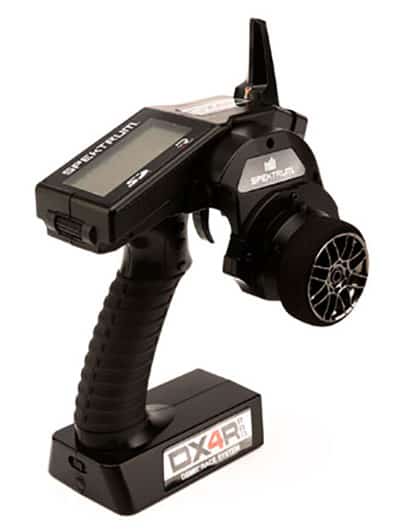 Spektrum has released a new lightweight 4 channel radio with racers in mind, the Spektrum DX4R Pro! The Spektrum DX4R Pro has extra range and security of the frequency agile DSRM technology. It also includes an impressive selection of available mixes, including pre-set mixes like MOA and 4WS, which can be switch activated and adjusted on the fly.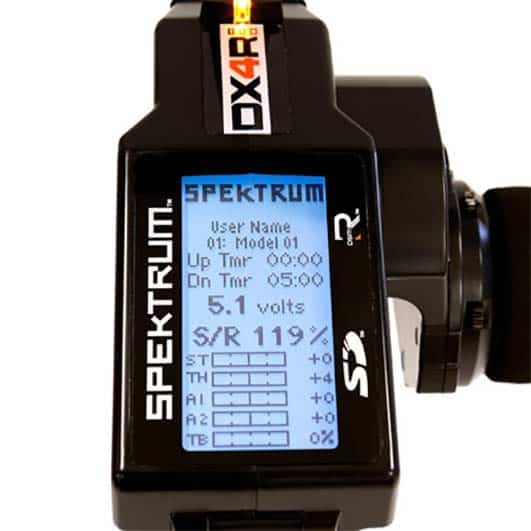 The potent combination found on the Spektrum DX4R Pro adds new ergonomic features that have been designed specifically with long mains in mind. Almost every contact point you have with the transmitter can be adjusted for your comfort and driving style, including the shape of the trigger.
The Spektrum DX4R PRO includes the SR2000 2-channel DSMR micro race receiver and a FREE SR410 4-channel DSMR sport receiver!
Spektrum DX4R Pro Features
Ultra responsive with DSMR 5.5ms frame rate
Adjustable trigger shape and tension
Large Backlit LCD Screen
50-Model memory with ModelMatch™ technology
4 User-defined, programmable mixes with naming
Pre-set mixes, including dual throttle, dual brake, MOA, 4WS, and dual steering
Switch-activated mix rates
On-the-fly mix rate control
Traction Control and ABS
RaceWare software updates via SD Card Reader via community site
Integrated antenna
Inactivity alarm
Includes the SR2000 2-channel DSMR micro race receiver and SR410 4-channel DSMR sport receiver
DX4R Pro Specs
Channels: 4
Modulation: DSMR
Band: 2.4GHz
Receiver: SR2000 and SR410 (included)
Model Memory: 50
Transmitter (Tx) Battery Type: AA (sold separately)
Experience Level: Advanced
Part #: SPM4100 – Spektrum DX4R Pro 4CH radio system
MSRP: $329.99
Available: Early November, 2013
Discuss the new Spektrum DX4R Pro in our Radio Gear forum!