Serpent teflon brake pads
RCTalk is supported by our readers. When you purchase through links on our site, we may earn an affiliate commission. Learn more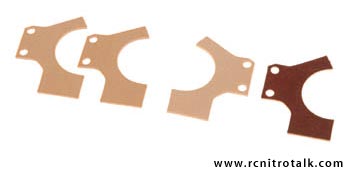 Serpent has released teflon brake pads for your serpent chassis! Coming in a set of that includes 2 left and 2 right teflon brake pads. The Serpent teflon brake pads are attached to the steel brake plates (#901365) that come with the latest Serpent chassis as standard.
The benefit of these Teflon pads over the original version brake pads is that teflon brake pads provide better and smoother braking power without locking up the brake shaft. This all ensures more consistent braking and allows the racer to be able to brake later and deeper into a corner.
*IMPORTANT* Mounting Information
Due to the material used, mounting the Serpent teflon brake pads require more care and different techniques.
Degrease and then roughen the appropriate side of the steel brake plates using sand paper or similar.
Apply Impact adhesive (preferable heat resistant) to both pads (darker side) and plates on the correct sides.
Wait the required amount of time for the glue to harden (read the instructions of the glue)
Introduce the pads and plates to each other and press together as hard as possible (use of a bench vice is recommended).
After use be sure to check regularly to see if the pads and plates are still together.
Discuss the new Serpent teflon brake pads in our On-Road Touring Talk forum!