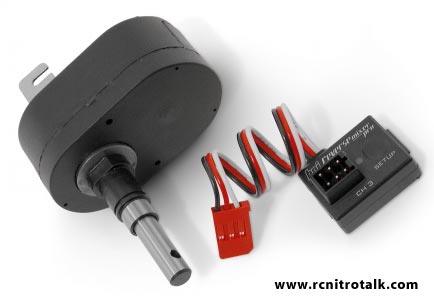 HPI has released a reverse module with mixer for the Savage X. The Savage X reverse module set comes with a reverse module that plugs directly into the Savage X transmission, a linkage set and a specially designed mixer. The mixer is an electronic device that plugs into your standard 2 channel receiver. To engage reverse, just hold the throttle in the full brake position for 3 seconds. While in the reverse mode you have complete linear throttle control and the transmission will even shift gears while in reverse. To switch back to forward, just hold full brake for 3 seconds. This system is safer than a 3 channel set-up because it prevents drivetrain damage by not allowing reverse to engage while moving forward.
The Reverse Module with Mixer fits the Savage X and can also be used on any Savage truck using a 2 channel receiver. A complete installation manual is included. A standard servo is required for the conversion (not included).
Part #: 87039
MSRP: $88.00
Discuss the new HPI Savage X reverse module in our HPI Savage Talk forum.