Rogue Element Shock Shaft Pliers
RCTalk is supported by our readers. When you purchase through links on our site, we may earn an affiliate commission. Learn more
The Rogue Element Shock Shaft Pliers – An absolute MUST HAVE for every RC owner!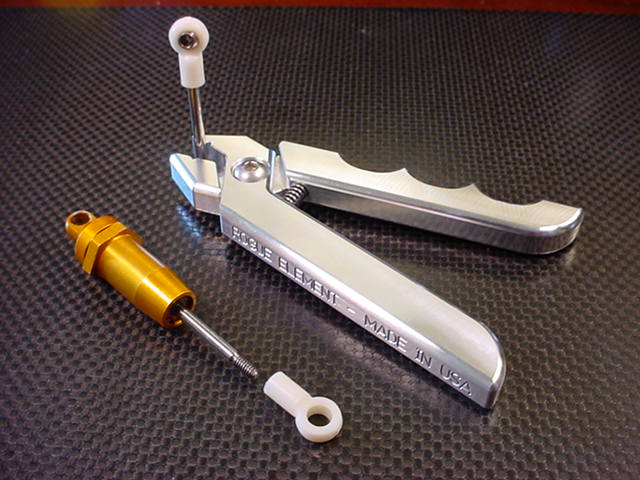 When I got my set of shaft pliers in the mail the first thing I noticed was the heft of the envelope that was in my hand. When I saw the picture of them on the web it did no justice to the quality of the tool I received. They are made from 6061-T6 Aluminum. T6 is softer than Stainless Steel and the Ti-Coatings used on shock shafts. Because of this, you can grip the shafts tight to avoid spinning. If you try to use regular pliers, I'm sure you know that you will mar or scratch the shafts no matter how hard you try not to.
If you use a lot of tools one of the things you will notice right a way is how it feels in your hand. The finger cut outs are the right size, the width of the handles are comfortable and most importantly, you can squeeze them tightly without hurting your hand. I also can't forget to again mention the heft of the tool. It's no wimpy little gadget like other tools I have tried. My wife just cam in as I'm typing this and picked the pliers up. She has no clue what they are but for what its worth she says they are pretty.
The diamond shaped notch in the head is a good size to fit all my shock shafts from my 1/18th Mini-T to my over sized 1/8th shocks. There is a return spring to keep the pliers open when you let go. This spring isn't necessary but is a great added feature. The set comes with a leather sheathe to keep it in good shape as its being bounced around in your toolbox.
I have had the pliers for 2 days now and have used it to do the following chores:
Remove and install shock ends.
Hold turnbuckles while installing ball ends.
Making small bends in linkage wires.
Removing hinge pins.
Holding a motor wire while soldering it to a battery post.
The $28.00 price tag may seem a bit high for one tool but at twice the price it's still a bargain.
To purchase a set contact your LHS or buy direct from their site. While your there you have to check out their scale license plates and holders as well as a line of custom alloy wheels.
To buy or find out more about the Shock Shaft Pliers from Rogue Element, check out their site at: http://www.rogueelementcomponents.com/