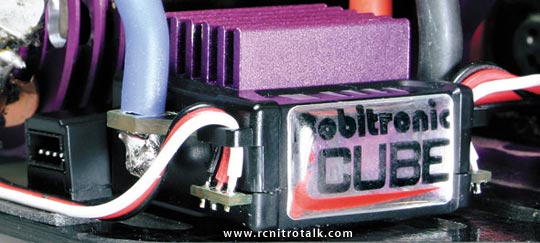 The Robitronic iCUBE ESC is another milestone in the development of electronic speed controllers. The Robitronic iCUBE electronic speed controller delivers unbelievable performance and many new features make the iCUBE an outstanding product, for competition use and demanding drivers alike.
Robitronic iCUBE Features:
New generation of PowerFETs with lower on resistance
5 optimized Power Programs developed by World Topdrivers (Full Power, Power Save, Team, PC and Li-Po for 2 Cells)
Adjustable current limiter
Intelligent Fet Controll Protection (IFC)
Adjustable brake frequency
Auto Brake and Auto Roll adjustable
External setup button with data link
Switch off with transmitter
External soldering tabs for receiver- and silicone flex wire
Optimized current flow for lower heat
Optional PC-Interface for Setup and Software Update with Datarecorder (Throttle position, Current, Voltage, Laptimes)
Heatsink in 3 colors
Robitronic iCUBE ESC Specifications:
Input power: 4-7 (4,8-8,4 V)
Motorlimit: 5 Turn
Frequency: 0,5-8kHz
B.E.C. Output Voltage: 6.0V
B.E.C. max. Current: 3.0A
Weight without wires: 21g
Case size: 27x25x13,5mm
iCUBE PC Interface:
With the iCUBE PC Interface you can easily read the data from your Robitronic iCUBE. The data recorder shows you all the important data to find the last tenths of a second on the track. The graphic data view and the displayed round times help you to optimize your driving style and the settings of your Robitronic iCUBE ESC. The software can be used on all Windows platforms.
PC Requirements:
CPU: Pentium 300 or higher
Memory: min. 128MB RAM
Harddrive: min. 10MB free space
Resolution: 1024×768 or higher
Peripherals: CD-ROM drive, USB port
OS: Windows 98SE, Windows 2000/XP
Robitronic iCUBE Part Numbers:
RS146B iCUBE Speedo with Datalogger
RS146P iCUBE Speedo with Datalogger
RS146T iCUBE Speedo with Datalogger
MSRP: $375.00
For more info about the iCUBE head over to Robitronic's website or you can join the discussion about the new ESC in our General Electric Talk forum!