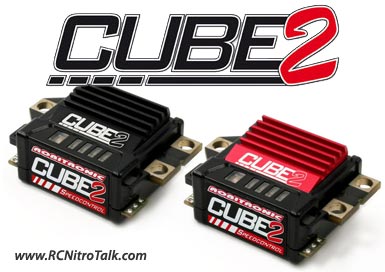 Robitronic has just released the Robitronic CUBE 2 which is their newest revolution of electronic speed controllers (ESC) on the market. The Robitronic CUBE 2 is more powerful, more efficient and optimized for any R/C race classes. The incredible power and speed found in the Robitronic Cube 2 is perfect for any touring car stock classes. An additional optimized 2wd off-road program provides super soft driving and starts. The Robitronic CUBE 2 also comes with a built in Data Recorder which stores important data such as throttle position, current, voltage and more).
Robitronic CUBE 2 Features
New generation of PowerFETs with lower on resistance
6 optimized Power Programs developed by World Topdrivers (Programs for 2S-2P LiPo's and for 2wd Offroad)
Current limiter adjustable
Frequency of the brake adjustable
Auto Brake and Auto Roll adjustable
Switch off with transmitter
External setup button with data link
External soldering tabs for receiver- and silicone flex wire/li>
Intelligent Fet Controll Protection (IFC)
The Robitronic CUBE 2 ESC also features a new flat design which is available in both red and black colored heatsinks. Just like the Robitronic iCUBE the Robitronic CUBE 2 is compatable with an optional PC-Interface for setup and software update with Datarecorder (Throttle position, Current, Voltage, Laptimes).
Robitronic CUBE 2 Specifications
Input Power: 4-7 cells (4.8-8.4 V)
LiPo: 2 cells (2S-2P)
Case Size: 27x25x13.7 mm
Motor turns limit: no limit
Weight without wires: 20g
Operating frequency: 0.5-8 kHz
B.E.C. Output Voltage: 6.0 V
B.E.C. max. Current: 3.0 A
Power Programs: 6
Part #: RS146R – Robitronic CUBE 2 Red
Part #: RS146BK – Robitronic CUBE 2 Black
Discuss the new Robitronic Cube 2 ESC in our General RC Electric Talk forum.