Reedy 2700mAh AA Batteries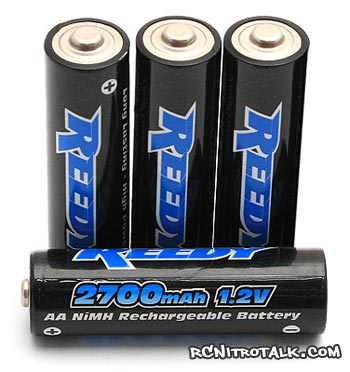 Reedy's 2700mAh NiMH AA batteries feature high capacity and power output for your R/C model, transmitter, or receiver. The Reedy 2700maH batteries also offer excellent performance in digital cameras, portable electronics, emergency lights, or any devices that benefit from extended battery life and/or maximum power output.
For those on a budget or who do not want to bother with charging, Reedy alkaline batteries are the perfect alternative. Transmitters, R/C cars, and other electronic devices benefit from their long-lasting high-power performance.
Part #: 302 Reedy AA Alkaline, qty 4 – $3.99
Part #: 303 Reedy AA 2700mAh NiMH, qty 4 – $19.99