Losi's new TEN-T Truggy packs the innovation and performance of Losi's groundbreaking 1/8-scale nitro platform into a 1/10-scale truggy. The Losi TEN-T Truggy is built to take on any terrain or track, this fierce machine includes a ton of features in a compact, agile design, including a chassis with the engineering characteristics of the 8IGHT-T. And to give you intense acceleration and top speed, power from the Losi 3.4 performance small-block engine is routed through a 2-shoe clutch and a bulletproof 4-wheel drive system.
The Losi TEN-T truggy is equipped with a Losi first – the revolutionary Remote Onboard Starting System (R.O.S.S.). With the push of a button on the included Spektrum DX3S transmitter, you can instantaneously heat the glow plug and engage the electric starter. Getting to the action has never been so easy!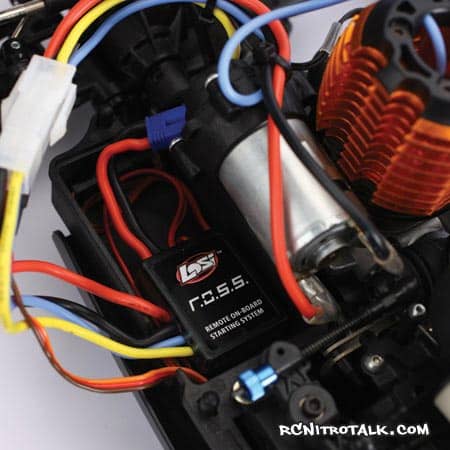 The Spektrum DX3S radio system does much more than start the engine. With genuine Spektrum 2.4GHz DSM technology built in, the Team Losi TEN-T offers precise, connected control not found on other vehicles. And with integrated telemetry, the DX3S displays up-to-the-second information such as speed, temperature and receiver battery voltage right on its screen.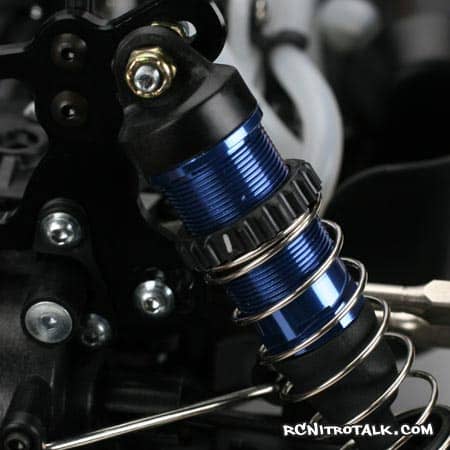 Losi TEN-T Features
R.O.S.S. module to control one-touch remote starting
Lightweight black anodized aluminum chassis
Oversized 12mm anodized, threaded shocks
4mm tie rods with captured ends
Losi digital steering servo for precise, powerful steering
Twin disc brakes for quick and reliable 4 wheel stopping
Large-capacity 75cc fuel tank for longer run times
Tank clunk for fuel pickup even when rolled over
2-shoe centrifugal clutch
320-series Zombie Max tires mounted on chrome 320 Force wheels
Losi 3.4cc performance engine with slide valve carburetor
High-performance tuned pipe designed to maximize the 3.4's potential
Two-stage air-filter system to ensure a clean air intake
Sway bars included for better control and handling
R.O.S.S. on-board ROSS starting system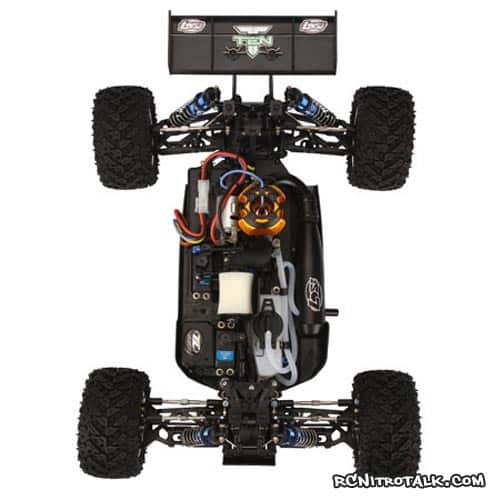 Losi TEN-T Specifications

| | |
| --- | --- |
| Type | Truggy |
| Scale | 1/10th |
| Length | 17.75 inches (450.85mm) |
| Width | 13.5 inches (342.9mm) |
| Wheelbase | 11.75 – 11.875 inches (298.45 – 301.625mm) |
| Weight | 6.2 lb (2.812kg) |
| Chassis | Black Anodized Aluminum |
| Tire Type | 320-Series Zombie Max |
| Engine | Losi 3.4 Performance Engine |
| Radio | Spektrum 2.4GHz DSM Technology |
| Battery | 7.4V LiPo Receiver Pack (Included) |
| Charging | LiPo Wall Charger (Included) |
| Kit/RTR | Kit |
Part #: LOSB0126 – Losi TEN-T 1/10th Nitro Truggy
MSRP: $799.99
Discuss the new Losi TEN-T truggy in our RC Truggies forum!