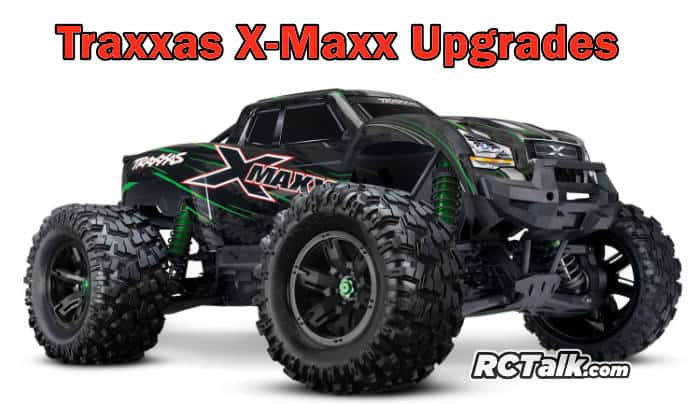 There is no doubt the Traxxas X-Maxx is a beast of a truck, but even the biggest trucks can benefit from a few well picked upgrades. The X-Maxx is no exception and in this post we'll look at some of the most recommended Traxxas X-Maxx upgrades according to RCTalk readers.
We'll be looking at a few things that you can do to make the Traxxas X-Maxx stronger, more durable, and faster!

Links in this post may contain affiliate links. Please read our full disclosure.
Required items for a new Traxxas X-Maxx
4x AA Batteries – For the included TQi 2.4Ghz transmitter. My recommendation would be to get a pack of Eneloop rechargeable batteries. Either the Panasonic Eneloop or Eneloop Pro (Pro's offer higher capacity / longer run time).
For a brand new Traxxas X-Maxx, out of the box, a set of 4 AA batteries are all you need to get started.
That said if you're new to the hobby then I would certainly recommend taking a look at our Tools for getting started in RC post to see what tools you might want to have in your toolbox.
Most Recommended Traxxas X-Maxx upgrades
Electronic Speed Controller (ESC) – Overwhelmingly this is the first item most commonly recommended to be upgraded first. Putting aside the Velineon VXL-6s ESC recall, the stock ESC has been known to struggle with big loads of power, even owners of the V2 X-Maxx recommend upgrading the ESC.
The most recommended ESC for the X-Maxx is by far the HobbyWing Max 6 ESC. The Max 6 is rated for up to an 8s LiPo, and will fit in the stock location without issue. A second option would be the Max 5 ESC, however it's larger size means you won't be able to place it in the stock location.
Tires – The stock Traxxas X-Maxx tires have seen some issues with ballooning and ripping. A common fix would be to tape them to help prevent ballooning, or you could upgrade to the Pro-Line Badlands MX43 tires.
The Badlands MX43's are not only made of a compound that prevents tire ballooning, but they also provide better traction. While the Pro-Loc system has been designed to keep you from ever throwing another tire off the bead.
A-Arms – We've all done it, either by hitting something or not landing that jump just right and in turn have broken an A-arm. Don't buy another stock a-arm, instead buy an a-arm that is not only much stronger but also lighter than stock. Get yourself a set of RPM X-Maxx A-arms.
If you are a hardcore basher, RPM also suggests picking up a set of CEN GS025 hinge pins to use with the RPM A-arms for the most durability.
Rear Axle Carriers – Another part that's common to see busted is the rear axle carrier. RPM RC Products also has a fix for that as well. In addition to the much added strength of the RPM rear axle carriers.
RPM has also designed them to use over sized bearings (included) which equates to a dynamic load rating that's about 300% higher than the stock bearing while the static load rating is over 300% higher!
Body – This probably isn't a surprise to anyone as most people bash the X-Maxx pretty hard. That means running into things, landing on the roof, wheelies, and everything else that's pretty good at eating up RC bodies.
Pro-Line Racing makes a great Ford Raptor body and T-Bone Racing also makes a EXO cage for the X-Maxx.
If you are looking for the ultimate durability in a body, then you've got to get yourself an X-Maxx unbreakable body. They cost a bit more and take a little longer to delivery since they come from Russia, but these bodies are incredibly strong and will last a very long time.
Those are just some of the most common suggested X-Maxx upgrades. If you have other suggested upgrades, please share them with us in the comments below.
Be sure to upload pictures of your X-Maxx to the gallery. Be sure to check here for Traxxas X-Maxx news.