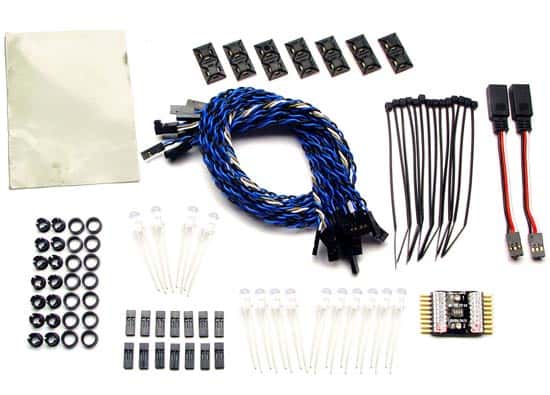 Using the TURNBRAKE 14 LED Controller from RC-Lights, LEDs can be directly powered from the throttle channel of the RX using the included RX Pass-Thru (mini Y-harness). A second RX Pass-Thru is included for linking with the RX steering channel.
Dual intensity brake light action is built right in! Throttle channel input fully reversible.
Fully-adjustable rate turn signals for Right and Left turn indication. Steering channel input fully reversible.
LEDs are split into seven banks: 2 constant fog; 4 constant/strobing headlights (headlight strobe rate fully-adjustable); 4 adjustable rate turn signals (2 each side R & L; front and back); and 4 switched dim or full bright depending on throttle stick position (GAS or BRAKE.)
Throttle and steering center-stick auto-detect for precise lighting effects every time.
Full-feature functionality built right in: constant fog lights, strobing headlights, active turn signals, and dual intensity brake lights for the ultimate in scale lighting effects for any scale body.
Bundled with this complete system: #5014
#5014: Is a universal LED system that can be installed in any 1:12 to 1:8 size Radio Control Car or Truck with accessible steering servo and throttle servo or ESC plug. Everything needed for a complete installation is included with every system. 4 white headlights, 2 white fog lights, 4 amber adjustable rate turn signals, and 4 red dual-intensity electronic brake lights are all included.
All LEDs are backed by a Lifetime Warranty!
RCL5054 – 14 LED Turnbrake controller – $130.00
RCL5014 – Head, tail, and electronic brake lights (5MM, 14″) – $180.00