On the original shipment of REVOS, it soon became obvious that their was a flaw in the design of the shaft side shock ends. After just a small amount of use the plastic ends would elongate or simply just snap off. Traxxas was fast to release an updated plastic replacement and aftermarket companies like Racers Edge were fast to come out with alloy replacement parts for those who wanted something more durable.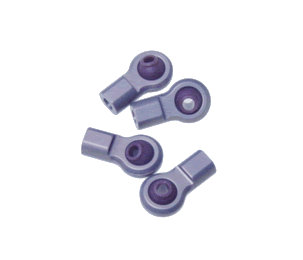 First impressions:

When I first received my shipment I was happy to see that they were made of High Grade CNC Machined Aircraft Aluminum and Hard Anodized for Extra Strength. The pivot balls are made of a hard fiber and rotated smoothly inside the end without binding. They are well machined and are a cool gold color.
It took about 15 minutes to replace all 4 and went flawlessly. Once the original ends were removed it gave me a good chance to inspect them. It was at that point I was glad I choose to replace them. All 4 were starting to show signs of stress and it was only a matter of time until they would have failed. I hand fitted the Racers Edge shock ends to find the fit to be perfect. Being a metal to metal connection I chose to use a small amount of lock-tight on the threads. I replaced the fronts then the rears. Everything went together well, was smooth without any binding. Soon after I was of to the bash site with a warm fuzzy knowing I would never have to worry about the shock ends again.
Overview:
I highly recommend them as an upgrade to your stock REVO. Yes the price is a bit high at the MSRP of $24.99 but well worth the price knowing my day will never be cut short due to shock end failure. I did find some other ends on the market by lesser known companies for just a few dollars less. All of the other companies used the stock metal ball ends. In time the metal to metal contact will cause excessive wear on the inside of the shock ends causing failure. Kudos to Racers Edge for using a fiber ball end to eliminate this issue. After shipping, the prices were close to the same. It's been my experience that Racers Edge manufactures quality product that can be trusted.
-FastEddy