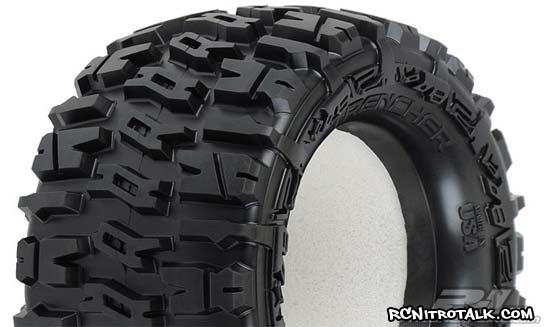 Proline has just released their popular Trencher tire for in a 2.8″ size made to fit the stock front and rear wheels found on the Traxxas Stampede.
The Trencher 2.8″ is a direct replacement tire and will fit on the stock Traxxas 2.8″ wheels. Pro-Line's world class development team spent several months of research, development and testing to ensure that the Trencher 2.8″ tire will perform above and beyond your expectations in any condition that you take your Traxxas Stampede or Stampede 4×4.
Whether it is loose or hard-packed dirt, sand, snow, street or gravel the Trencher 2.8" tire is up to the task. The Proline Trencher 2.8 for Stampede tread was designed to have ultimate traction combined with long-lasting durability. Each tire lug is shaped to dig into whatever surface you are running on and is ultra-thick so that it is extremely durable.
Proline Trencher 2.8 video
Proline Trencher 2.8 Features
Horizontal H shaped tread for ridiculous amounts of traction and side-to-side stability
Over-sized tall tread are second-to-none in durability and longevity
For use with stock Traxxas® 2.8″ wheels
Extremely detailed sidewall design for that tough off-road look
Official Pro-Line logo and Trencher name embossed on sidewall of tire
Made in the USA!
Part #: 1170-00 – Proline Trencher 2.8 for Stampede
MSRP: $21.95
Discuss the new Proline Trencher 2.8 tire in our Electric RC Talk forum.