Proline Racing 23mm HD HEX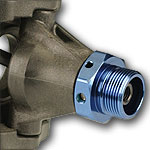 Pro-line Racing has just released news about their new Proline Racing 23mm HD Hex for the LST2 and Mammoth ST2. As monster trucks such as the LST2 and Mammoth ST2 are getting bigger and bigger, the overall weight of vehicles has nearly doubled and the amount of horsepower the engines produce has nearly doubled as well in just a short time span. After so many requests and the monster truck market continuing the evolve, Pro-Line has your needs covered LST2 and Mammoth ST2 owners with the new 23mm HD Hex's!
Proline Racings new 23mm HD series of products are for the full on monster truck enthusiast. This includes the backyard basher or the track terror. The 60% larger hexes provide unbeatable performance and enhance the overall durability and longevity over standard size hexes found on most of todays monster trucks. Installing the new Proline Racing 23mm HD Hex's is a breeze. Simply remove the standard nut, wheel, and hex, and replace with 23mm hex, wheel, standard nut, and new wheel nut.
Proline 23mm HD Hex Features:
Made from high grade 6061 aluminum
Finished off with a bright blue anodizing
Easy 1-2-3 type installation
Available for LST2 and Mammoth ST2 trucks
Works with exclusive 23mm HD Series wheels only
Part #: 6034-04 – Team Losi LST2, XTM Mammoth ST223mm Heavy Duty Hex Adaptor.
MSRP: $18.50