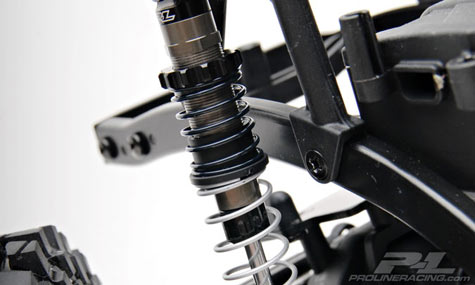 Those of you that want a lot of features, high performance and still maintains realistic details, the new Proline Power Stroke scaler shocks are perfect for your needs.
The Proline Power Stroke scaler shock bodies are threaded aluminum that offer infinite spring pre-load adjustment. The aluminum shock caps ensure the most reliable shocks without fear of popping a shock cap.
The Proline PowerStroke Scaler Shocks come pre-assembled all you need to do is just add oil! Fits SCX-10 or 1:10 scale build Rock Crawlers.
Power Stroke Scaler Shock Features:
Aluminum body and shock cap
Infinite spring pre-load adjustment
True dual-stage spring rate. (Single stage spring also included)
Beefy 3.5mm shock shafts
Injection molded, super durable spring retainer and shock ends
O-Ring sealed shock cap
Free flow molded pistons
Dual O-ring seats and upper and lower shock shaft guides
95mm maximum shock length achieved with included optional shock ends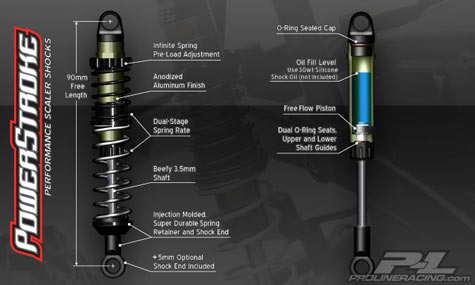 What's included:
Pre-assembled PowerStroke Performance Scaler Shocks (2)
Single stage spring (2)
+5mm longer shock ends (2)
#6060-00 Proline Powerstroke Scaler Shocks 90mm-95mm Pair (2pc) fits 1:10 Scale Rock Crawlers $49.95
#6060-01 Proline Powerstroke Scaler Shock Plastic and Rebuild Kit (1 pair) $7.95