Proline mounted Trencher tires on Tech 5 wheels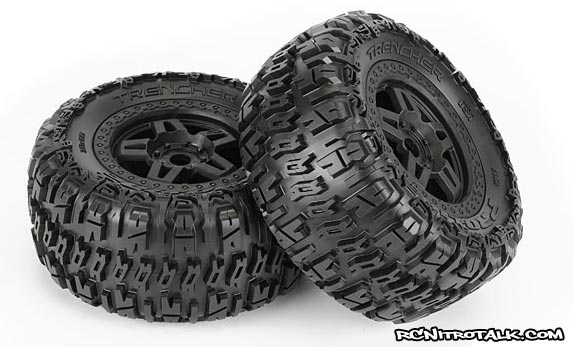 Proline's Trencher 3.8″ tires are now available pre-mounted on Tech 5 black wheels! Proline Trencher tires are designed to give your R/C monster truck ridiculous amounts of forward bite with their super cool horizontal H shaped threads giving you optimal traction on just about any surface.
With tread height at ¼" tall, you'll find that durability and longevity are second to none with the Trencher 3.8 tires. Each package includes (2) Trencher 3.8″ (40 Series) mounted to Tech 5 Black Wheels!
Proline Trencher 3.8 Features
Horizontal H shaped tread for ridiculous amounts of and side-to-side stability
Oversized and nearly ¼" tall tread are second-to-none in durability and longevity
For use with 3.8″ (40 Series) Monster Truck Wheels
Increased sidewall thickness to resist tearing at the bead
Extremely detailed sidewall design for that tough off-road look
Official Pro-Line logo embossed on sidewall of tire
Tire made 100% in the USA
Designed to fit
T-MAXX 3.3
Traxxas REVO's
HPI Savage trucks including the XL
Team Losi LST XXL
Part #: 1160-13 – Trencher 3.8″ mounted to Tech 5 Black Wheels