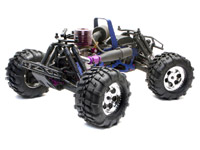 The huge success of the Savage began with the release of the ground-breaking Savage 21 in September 2002. The new updated Savage 3.5 RTR is based on the classic Savage 21 that has proven its power, performance, durability and strength since it's first release. The new Savage 3.5 RTR has been updated with all the latest Savage improvements to make it even stronger
The HPI Nitro Star 3.5 engine is now equipped with 2-needle composite carburettor. This redesigned engine, with two needles instead of three, makes it much easier for beginners to set up and tune. The new composite material makes the engine run smoother at all temperatures.
The Savage 3.5 RTR is ready to run, equipped with a high quality 3-channel radio (prepared for reverse module). Only a few steps are required to start the car for the first time. The enclosed HPI RC-Car DVD is the perfect introduction to Nitro powered RC-Cars for all beginners.
The following updates improve the overall strength and durability of the chassis and drive train:
• 4 Bevel Diff
• 3 piece Clutch
• Updated 2 Speed
• Cam type steering servo saver
• Aluminium Cast Brake Hub
• Add washers on rear outside tie-rod
• New Throttle return spring & throttle servo saver spring
We've also have added some new features to give the Savage 3.5 a new cool look!:
• #7755 Nitro GT-1Painted Body (M. CANDY BLU/SIL/BLK)
• #73915 Blue TVP Chassis and #86153 Blue Roll Bar
• #3117 6 Spoke Shiny Chrome Wheel
• #6749 Black Shock Springs