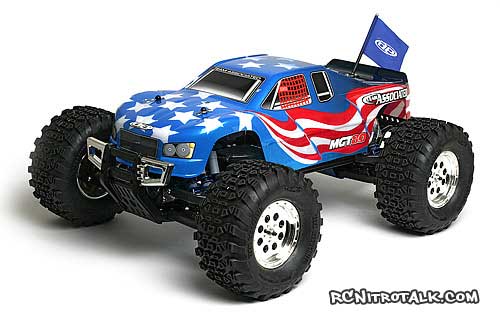 Team Associated is releasing the MGT 4.6 and MGT 8.0 RTR's with their American flag bodies, just in time for the 4th of July! These limited edition red, white and blue beauties not only look awesome, the MGT's also deliver the ground pounding power and torque that you have come to expect from a Team Associated.
MGT 8.0 RTR with Flag Body
Insane ground-pounding power will be unleashed when you start up the Team Associated MGT 8.0! Based on the original MGT design, with the addition of an AE 8.0cc engine, the MGT 8.0 is Team Associated's most
powerful truck to date! Reinforced to handle the massive power the 8.0cc engine delivers, the MGT 8.0 comes factory assembled with the all new XP3D FM Computerized Digital Radio, the Pro-Start engine starting system, a 2-speed automatic transmission with reverse, eight coil-over oil filled shocks, full precision ball bearings, specially designed Team Associated all terrain tires, and with a flag body design.
MGT 4.60 SE RTR with Flag Body
At the heart of the MGT 4.60 SE beats the AE 4.60 engine which has increased displacement of 33%, making the MGT 4.60 SE deliver more horsepower and stump-pulling torque! The rugged extruded aluminum chassis, oil filled shocks, and huge mounted all-terrain tires give the MGT 4.60 SE over 4 inches of ground clearance, letting you take that power over almost any obstacle. Now available for a limited time with a flag body design!
Part #: 20503 – Limited Edition MGT 4.60 RTR, with flag body
Part #: 20504 – Limited Edition MGT 8.0 RTR, with flag body
Discuss the limited edition MGT's with the American flag bodies in our Associated Monster GT forum!