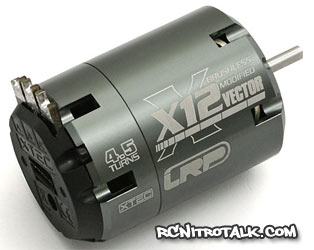 Check out Team Associated LRP new Vector X-12 brushless motor! LRP is claiming the LRP Vector X-12 is the new brushless motor to beat in high level racing competition. The LRP Vector X-12 is designed out of only two main parts and using just four screws, thus allowing you to access the replace the rotor of the LRP Vector X-12 while leaving the motor in the vehicle.
The LRP Vector X-12 is fully adjustable and replaceable which allows the Vector X-12 for precision sensor positing for more power, efficiency, throttle response, and torque. Plus, the new sintered 12.5mm size magnet and strengthened shaft further enhance the Vector X-12 motor's performance! The LRP Vector X-12 comes in a 8.5 turn to a 3.0 turn brushless motor setup.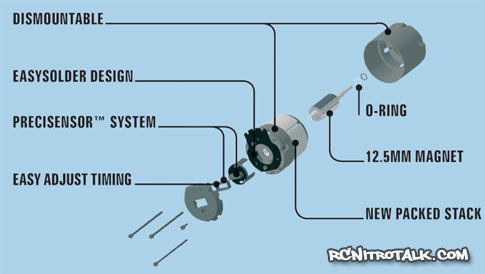 LRP Vector X-12 Features
Dismountable. Machined 7075-T6 aluminum can, short/light-weight design and maximum airflow.
Easy-solder Design. Heavy copper, multilayer PCB for lowest resistance.
PreciSensor System. Revolutionary precise senor positioning for best power, throttle and efficiency. Fully adjustable and replaceable.
Timing. Adjustable timing in clearly defined, reproducible steps with new molded timing inserts for same result every time.
O-Ring. Dampening and optimized bearing size for vibration-free operation.
12.5 mm Magnet. All new sintered 12.5 mm magnet size and grade, for best efficiency and mid-range torque and new high strength shaft.
New Packed Stack. With minimized core losses for lowest temperature and higher efficiency.
Part #: LRP50652 – LRP Vector X-12 8.5turn brushless motor
MSRP: $129.99
Discuss the LRP Vector X-12 brushless motor in our RC Engines and Motors forum.