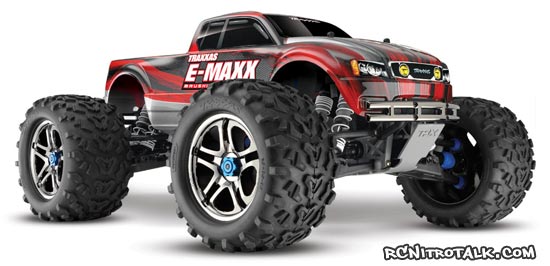 Traxxas has taken their popular E-Maxx truck and has given it an over haul, this time with a powerful Castle Creations Mamba Monster brushless system! Traxxas made sure the E-Maxx Brushless Edition had all strength and durability needed for today's most powerful aftermarket brushless setups. Give E-Maxx all you've got; its Brushless-Ready transmission is built for hard-hitting 6S LiPo power with the biggest brushless motors, and every component between the motor and the tires is proven tough for full-throttle fun, pack after pack, with the durability and reliability you expect from Traxxas.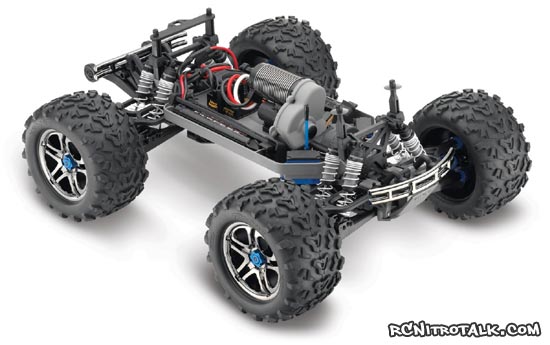 Castle Creations Mamba Monster Brushless System
Built specifically to handle the rigors of large, power-hungry trucks, the Mamba Monster speed control is ready for 6S LiPo power with its massive 6.5mm gold-plated connectors, high-efficiency heatsink, integrated cooling fan and heavy-duty components. The speed control sends its power pulses to a Castle 2200Kv 75mm motor, designed specially for maximum performance and reliability with 6S LiPo power in torque-hungry applications. The aluminum motor can is machined to act as a massive heatsink, high-grade bearings deliver maximum efficiency, and high-strength Neodymium magnets give Traxxas E-Maxx Brushless Edition outrageous torque. To resist the twist, a beefy 5mm shaft transfers power to the Brushless-Ready transmission.
Heavy-Duty 17mm Hex Hubs
The Traxxas E-Maxx Brushless Edition's 17mm splined aluminum hex hubs make certain its considerable horsepower is delivered directly to the treads. The splined design is extra strong with unsurpassed torque handling to resist twist-out no matter how hard the 2200Kv brushless motor pulls at the tires. The unique hex-hub shape also accepts standard 17mm-hex wheels.
Traxxas TQ 2.4GHz Transmitter and 4-channel Micro Receiver
Extreme speed and power calls for extreme control, and Traxxas delivers with the proven TQ 2.4GHz radio system. The TQ's ergonomic design houses spread-spectrum circuitry, eliminating the need for crystals and channels. Just switch on and drive; the 2.4GHz circuitry automatically locates an open channel for glitch-free operation, and the high-power transmitter gives you long-range control with the security of built-in fail-safe circuitry.
Massive 6.3″ Maxx Tires
Extreme Brushless Power goes wasted if the tires can't put the power to the ground. Traxxas E-Maxx Brushless Edition has it covered with some of the toughest treads in Traxxas' arsenal, the aggressive Maxx tires used on the hard-hitting Traxxas Revo 3.3 and Traxxas T-Maxx 3.3. These massive meats offer tenacious grip, and their huge footprint gives Traxxas E-Maxx Brushless Edition greater stability and generous ground clearance for all-terrain fun. The tires are securely mounted to Twin-Spoke wheels, now covered in sinister black chrome as part of the exclusive Brushless Edition look.
Extended Wheelbase, Low CG Chassis For Rock-Solid Stability
Even at maximum speed, E-Maxx Brushless Edition feels stable and controlled thanks to its extra-long 335mm wheelbase, 30mm longer than the original Traxxas E-Maxx. The chassis also features battery compartments that position the batteries lower, angled in towards the center of the truck to lower its center of gravity. The result is improved handling and cornering stability. Heavy-duty chassis braces work together with a new center skid plate to greatly enhance chassis strength and torsional rigidity, so brushless horsepower is channeled into pure acceleration, not unwanted flex.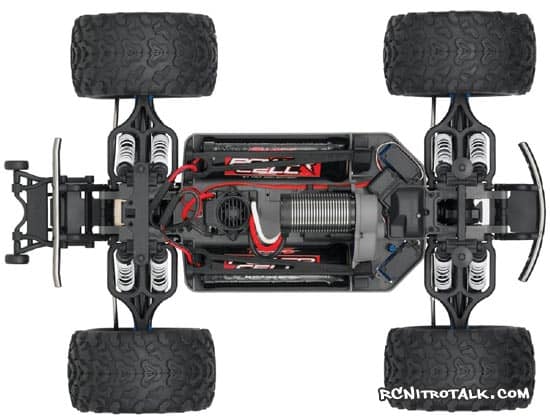 Fast, Easy Battery Installation
Traxxas engineers are always looking for ways to make Traxxas products the standard for ease of use. The new snap-lock battery hold downs speed battery installation. Press a lever to release, snap them in to lock. Securing your batteries takes just seconds and there are no clips to lose. The new configurable battery compartments are designed to easily accept either 6 or 7-cell battery packs and comparably sized LiPo packs.
Waterproof, High-Torque, Digital Steering Servos
The Traxxas E-Maxx Brushless Edition is equipped for exceptional steering precision with dual, waterproof, high-torque servos (#2075). Twin servos are lighter and more compact than a single large servo, and together they deliver unmatched monster steering response. The servo saver rides on ball bearings to keep the steering response smooth and precise. In short, it's the most powerful and responsive Maxx® steering system ever.
Adjustable Wheelie Bar
To handle extreme brushless power, the adjustable Traxxas wheelie bar is mandatory equipment for the E-Maxx Brushless Edition! Four snap-in adjustment positions allow you to choose how extreme you want your wheelie action to be. In the down position, it keeps the front end planted to show off Traxxas E-Maxx's incredible acceleration. Raise the wheelie bar to its full-up position and the action gets wild, with giant wheelies that hang on as long as you keep mashing the throttle! The wheelie bar's unique design allows it to be easily removed in situations where you may not want the additional control.
Traxxas E-Maxx Brushless Edition Features:
Castle Creations Mamba Monster Brushless System
Up to 25.2 Volts of Massive Brushless Power
Traxxas Power Cell Batteries Included
Heavy-Duty 17mm Hex Hubs
New body design and graphics
Aggressive 6.3" Maxx-Sized tires
Black-Chrome 3.8" Twin-Spoke wheels
Traxxas TQ 2.4GHz Radio System
Four-Channel micro receiver
Top Speed: 50+mph out of the box, 65+mph all-out!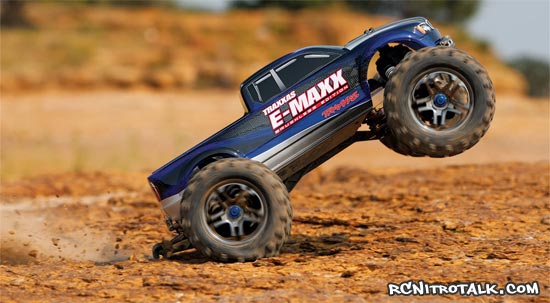 Part #: 3908 – Traxxas E-Maxx Brushless Edition, fully assembled, Ready-To-Run, with TQ 2.4GHz radio, Castle Creations Mamba Monster ESC and ProGraphix painted body.
Discuss the new Traxxas E-Maxx Brushless Edition in our Traxxas T-Maxx forum!