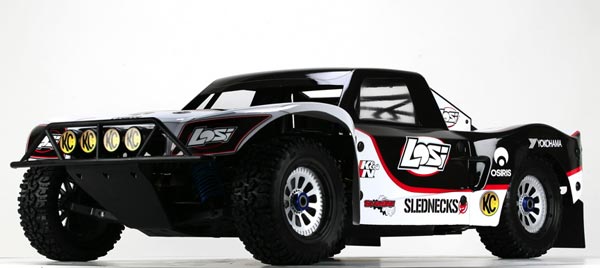 The new 1/5th scale Team Losi 5ive-T large scale RC 4WD truck is the closest thing to a full size vehicle in realism, performance and experience. It features a 4WD drivetrain based on the race-winning, award winning 8IGHT platfrom, Spektrum telemetry receiver, installed sensors, and 1/4-scale servos. And since the Losi 5ive-T is a Bind-N-Drive vehicle, you complete it with the DSM transmitter of your choice!
The Losi 5ive-T has no ordinary chassis. It is based on the award winning, race-proven 8IGHT Platform. It has been designed to produce the best performance possible. The 5ive-T chassis plate is constructed of 5mm aircraft-grade aluminum and has been machined to save weight and add strength to provide extreme durability.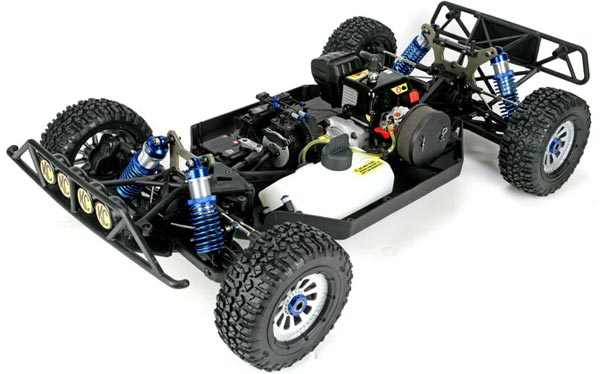 The Team Losi 5ive-T comes with a 26cc engine, 8000 RPM clutch, a high volume muffler and features an electronic ignition, easy adjust carburetor with a built-in choke and fuel primmer. As an added bonus, the Losi 5ive-T has machined oval inserts that match the chassis cutouts precisely to locate the engine for proper gear mesh.
To ensure a long engine life and proper care of the Losi 26cc engine, the air and fuel systems are served by a two-stage filtering systems. The air must pass through two different foam filters designed to block as much dust and debris as possible while still maintaining proper flow. The fuel system on the Losi 5ive-T features a secondary filter that serves multiple purposes. One, to keep the fuel pickup in the gas mix no matter the orientation of the vehicle and as a filter to block larger debris and a secondary bullet style filter to catch anything else.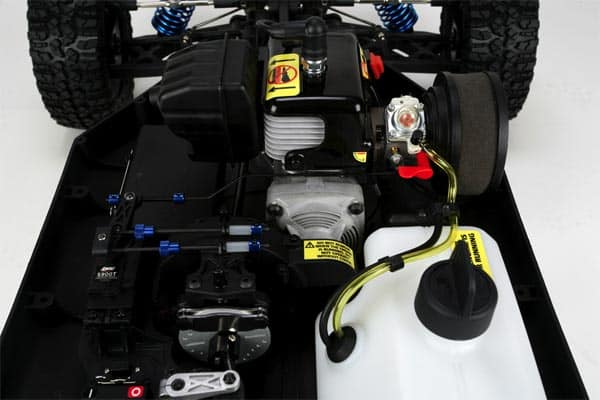 To absorb all the bumps and jumps, Losi has installed large-bore threaded, aluminum shocks feature over-sized 7mm shock shafts designed to stand up to the punishment of 1/5-scale action. The threaded adjusters allow for fine-tuning of the ride you are looking to achieve. The extra high volume of fluid is essential in controlling the suspension movement over the roughest terrain.
The realistic cage on the Losi 5ive-T provides added durability to the assembly absorbing impacts as well as a solid base for the modular body. The unique design allows the 5ive-T body and cage to be removed with only four screws and four body clips in seconds.
The four-piece body individual panels to be replaced in the event that it becomes damaged so an entire body does not need to be purchased to get the vehicle back to the factory look. Clear panels and stickers are sold separately to create your own look or retain the factory schemes.
Losi 5ive-T Features
4-wheel-drive power train
SR3300T telemetry receiver with 2.4GHz DSM technology
Telemetry sensors installed (temp, receiver battery voltage, mph/rpm, km/h)
5mm aluminium chassis
Design based on successful 8IGHT platform
Powerful Losi 26cc 2-stroke gasoline engine
3 tunable sealed viscous differentials
Large-bore shocks with 7mm shafts/threaded adjusters
Multi-piece beadlock off-road wheels
Aluminium dual-disk braking system
Extra-large 800cc fuel tank with clunk
1/4-scale heavy-duty metal gear steering servo
1/4-scale heavy-duty throttle servo for superior braking authority
2-stage air and fuel filter systems
Full roll cage modeled after full-scale trucks
4-piece body with ability to replace individual panels
Losi 5ive T Specs
Length: 38 in (965.2 mm)
Width: 20.75 in (527 mm)
Wheelbase: 24 in (609.6 mm)
Height: 12.25 (311.1 mm)
Weight: 30+ lb
Chassis: T6 aluminium, 5 mm
Engine: Losi 26cc 2-cycle
Suspension: 4-wheel independent
Shock: Aluminium, threaded adjusters, 7mm shock
shafts
Drivetrain: 4WD with three sealed viscous differentials
Wheel: Molded composite beadlock with industry-
standard hex size
Tire: Off-road all-terrain
Receiver: Spektrum SR3300T with built-in telemetry
Battery: 6V 3300mAh NiMH Receiver pack/global AC
charger
Body: Four-panel pre-decorated
Part numbers:
LOSB0019BKBD – Black 5ive-T 4WD Off Road Racing Truck
LOSB0019WHBD -White 5ive-T 4WD Off Road Racing Truck
Losi 5ive-T video
Discuss the new Losi 5ive-T large scale truck in our Large Scale RC Forum or at our sister site: www.LargeScaleForums.com