Losi 1/18th Mini-Desert Truck
RCTalk is supported by our readers. When you purchase through links on our site, we may earn an affiliate commission. Learn more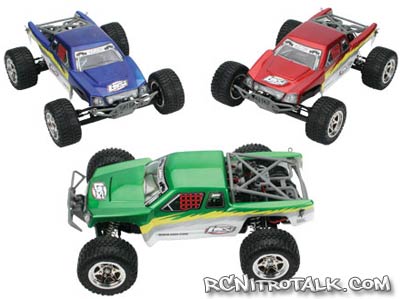 Losi has taken their Losi Desert CORR truck and has made it smaller, introducing the Team Losi 1/18th mini-desert truck. The Losi Losi 1/18th Mini-Desert truck is RTR and features a number of features such as a front skid plate, roll cage, front and rear bumpers as well as all-terrain tires.
The Team Losi 1/18th Mini-Desert CORR truck also features full ball bearing transmission, oil filled shocks, a 7.2v rechargeable battery pack, and a speedy RC-280 motor. The Mini-Desert Truck utilizes industry standard 3-wire electronics for easy setup and compatibility or customizing. The installed electronics are also compatible with a variety of batteries, including 6-cell mini packs and 2-cell LiPos.
To really give the Losi mini desert truck a realistic appearance, Team Losi has included life like roll bars and tubular front and rear bumpers. The front bumper also sports two fully working lights to light up the night!
Part #: LOSB0202 – Losi 1/18th Mini-Desert Truck
MSRP: $239.99
Come discuss the Losi 1/18th Mini-Desert Truck in our Micro 1/18th forum.