HPI fall 2010 factory rebate, ends soon!
RCTalk is supported by our readers. When you purchase through links on our site, we may earn an affiliate commission. Learn more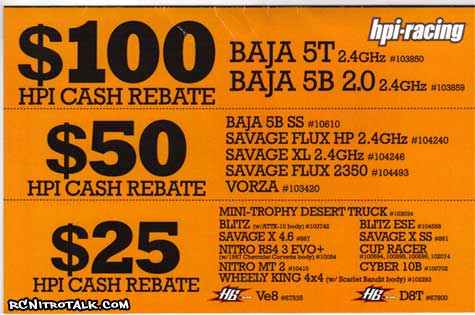 If you haven't already taken advantage of HPI's fall 2010 factory rebate of up to $100, you better hurry as the rebate offer ends Oct 15, 2010! All you have to do is purchase a qualifying HPI or Hot Bodies RC, send in the original store receipt, the UPC code from the box and then fill out the simple HPI rebate web form and mail it in by Nov. 30th, 2010!
Looking to save even more money? Check out our sponsor RC Parts Factory for the best deal on HPI vehicles – add that with a rebate of up to $100 and you'll be saving some nice cash!
Qualifying HPI RC part numbers
103850 – BAJA 5T
103859 – BAJA V2.0
10610 – BAJA SS
104240 – SAVAGE FLUX 2.4
104246 – SAVAGE XL
104493 – SAVAGE FLUX 2350
103420 – VORZA
867 – SAVAGE X 4.6
861 – SAVAGE X SS
100594 – CUP RACER W/ DATSUN 240Z
100595 – CUP RACER W/ DATSUN 510
100596 – CUP RACER W/ LEVIN
102074 – CUP RACER W/ PORSCHE
103742 – BLITZ W/ ATTK-10 BODY
104558 – BLITZ ESE
10054 – RTR NITRO RS4 3 EVO+ WITH 1967 CHEVROLET CORVETTE
10410 – NITRO MT2 RTR
100702 – CYBER 10B
102293 – WHEELY KING W/ SCARLET BANDIT BODY
103034 – MINI-DESERT TROPHY TRUCK
For more information about the HPI rebate as well as the rebate form be sure to check out the HPI Rebate page!