HPI 4WD Desert Trophy Truck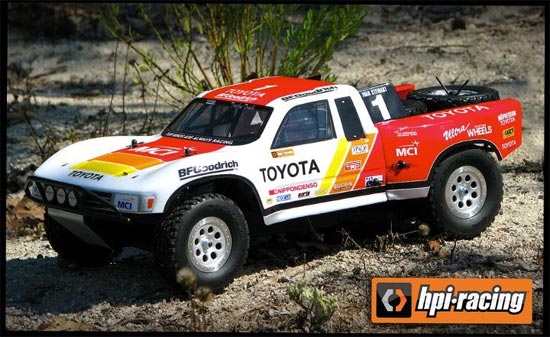 HPI has just announced their new HPI Desert Trophy Truck! The new Desert Trophy truck features jaw dropping realism, from the extremely detailed and functioning trailing arm suspension to the full roll cage, down to a detailed interior set with driver and co-driver that is topped off with an officially licensed set of Yokohama Geolandar tires and Yokohama liveried body.
The HPI Desert Trophy Truck packs a 4WD drivetrain that has no problem putting the blistering power of the 15T Firebolt motor to the ground, the ability to conquer virtually any surface you throw at it with ease, and the power to motor out of spots where four-wheel drive is mandatory. The HPI Desert Truck is complete with the legendary and unrivaled HPI durability- steel dogbones at all four corners, brushless ready metal gear differential, and aluminum front uprights and rear hubs just to name a few.

HPI Desert Trophy Dimensions:
Length: 21″ – 533.4mm
Width: 9 3/16″ – 233mm
Wheelbase: 12 9/32″ – 312mm
Height: 6 3/8″ – 162mm
Part #: 106546 – HPI RTR 4WD DESERT TROPHY