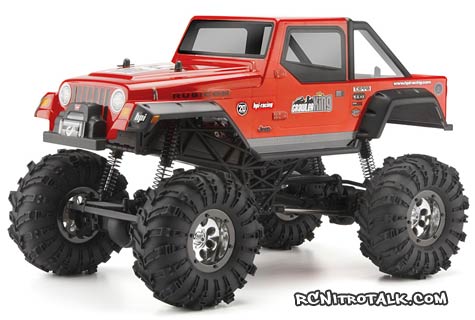 HPI has released news of it's new rc crawler, the HPI Crawler King. Built from the HPI Wheelie King, the HPI Crawler King comes ready to hit the rocks right out of the box. With it's more then 6″ inches of suspension travel, lower link positions, and the maximum legal wheelbase length the HPI Crawler King is ready to take on the competition.
When you're ready to hit the rocks, the HPI Crawler King gets you started crawling with ease – with the ultra-flexible Wheely King 4×4 chassis as a starting point, HPI has added the excellent #87633 Rock Crawler Conversion for the best weight distribution, extra articulation and tuning, plus #4896 Rock Grabber tires for extreme grip and finally #3213 Rock 8 beadlock 2.2 inch wheels in chrome for great style and extra weight down low, right where you need it!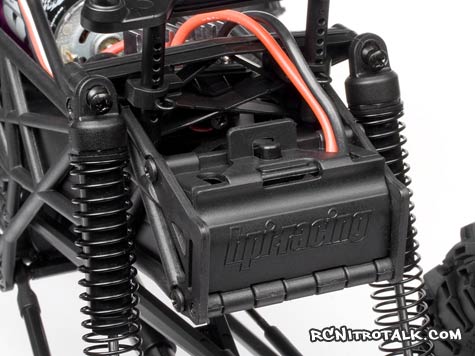 HPI has taken the Crawler King and with the use of anodized aluminium links with pivot balls have extended the wheelbase which in turn give you more articulation for extreme angles.
The chassis of the HPI Crawler King features a front-mounted battery compartment to optimize weight distribution over the front wheels. This is the ideal place to put the weight of the single heaviest component in the truck, giving you supreme climbing power as you tackle tough inclines!
HPI also gave the Crawler King multiple lower shock and link mounts to give you the best tuning options and increase the amount of ground clearance to your liking.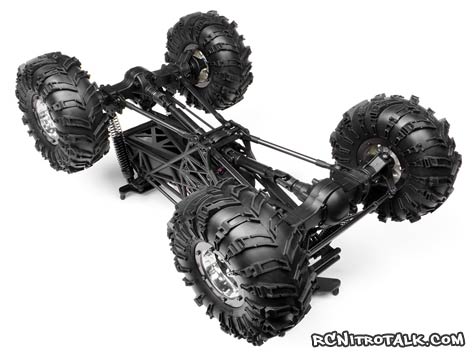 With a completely assembled chassis, painted body and a full set of electronics, it's a simple matter of adding 8 AA batteries in the radio and charging the truck battery to have some fun!
The HPI Crawler King features the high-quality HPI TF-1 27MHz transmitter for proportional control, reliable SF-1 steering servo, reversin EN-1 electronic speed control and brand new Crawler 55T crawling-specific motor. Charge the 7.2v 1500mAh battery with the handy included wall charger, or use any RC battery charger.
102117 – RTR HPI Crawler King with Jeep Wrangler Rubicon Body
102118 – RTR HPI Crawler King with Land Rover Defender 90 Body
Discuss the new HPI Crawler King in our RC Rock Crawlers forum.