After many months of user modifying their HPI Wheely King into a RC rock crawler using various RC parts or creating their own parts, HPI Racing has released a kit of their own which allows anyone with a HPI Wheely King to quickly convert it to a ready to crawl rock crawler!
The new Wheely King crawler kit extends the wheelbase by 2¼" making the total wheelbase 12.5″ long – the longest allowed by the USRCCA rules. Anodized aluminum lower links are also included that give the Wheelie King a realistic rock crawler look and the ground clearance is also extended with high link suspension mounting brackets.
To help maximize the weight layout for rock crawling, the rc rock crawler conversion kit comes with a new servo mount that allows the battery tray to be moved forward in the truck – a very common change among Wheely King owners. Diff lockers are also included for both differentials, effectively locking the front and rear diffs for extra traction. Also included are convenient body mounts and hex hubs that allow the Wheely King Crawler to be compatible with a wide variety of bodies and wheels.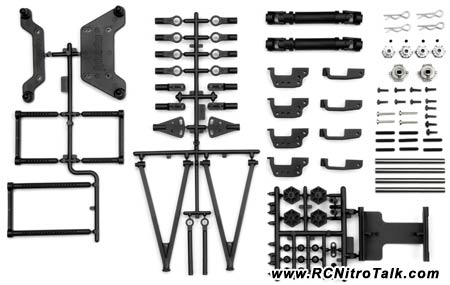 HPI Wheely King RC Crawler Conversion Kit Features:
2 1/4″ longer wheelbase for better stability.
Longest wheel base allowed by class rules.
Diff Lock (Front and Rear) for increased traction.
Front battery layout moves weight forward for better crawling stability.
Additional body mounts allow fitment of all Savage bodies.
Aluminum lower suspension links for extreme durability and good looks.
High link suspension mount brackets for more ground clearance.
New Steering servo mount repositions servo to allow battery in front of crawler.
Optional 17mm hex hub included for fitment of 17mm hex hub wheels. (Savage wheels etc.)
Part #: 87633 – Wheely King Crawler Conversion Set
MSRP: TBA
Discuss the HPI Wheely King RC Crawler Conversion Kit in our RC Rock Crawler forum.