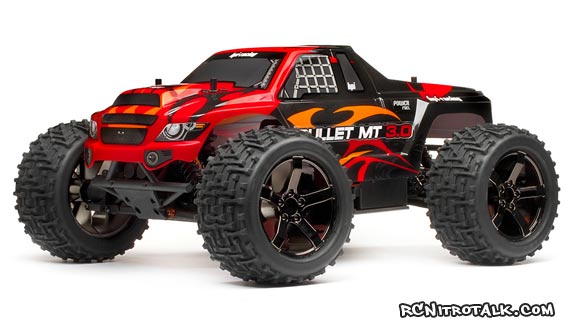 Check out HPI's newest 1/10th scale monster truck, the HPI Bullet MT! The HPI Bullet is the newest member of the HPI family which is based around their 4WD shaft drive train, 2 shocks per wheel and a double deck aluminum chassis. HPI also offers the HPI Bullet in both their silent Flux brushless motor systems or their power full Nitro start 3.0 engines. With the HPI Bullet MT, HPI has allowed you to get the precise flavor of off-road performance that you've been looking for.
HPI Bullet Chassis
The HPI Bullet trucks use a 3mm aluminum plate-style chassis as the backbone, providing a tough foundation for the suspension and drivetrain. The aluminum used in the chassis is the very strong 7075-T6 alloy, which is the best aluminum available in radio-controlled vehicles and military aircraft, making it the ideal material for something like the HPI Bullet! For extra stiffness, the sides of the chassis are upturned and the aluminum radio plate also acts as an extra stiffening support.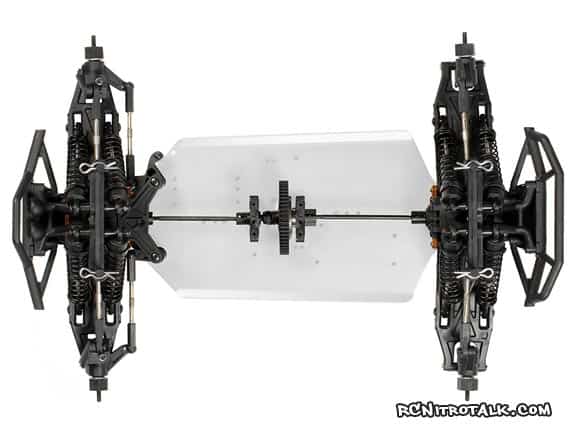 HPI Bullet Drivetrain
The drivetrain used in all HPI Bullet trucks is a full-time four-wheel drive shaft-type drivetrain, just like the one used in 1/8th scale buggies like the World Champion HPI D8 buggy. A shaft drivetrain is the best option for a kit that's expected to encounter every possible driving condition and track surface, so whether you're blasting through mud, water, dirt, grass, snow or gravel, this is exactly what you what you want!
The center dogbones drive the front and rear bevel differentials, which use 4 internal gears for increased durability and lifetime over standard 2-gear diffs. The diff out-drives turn steel out-drives and axles, and 14mm hex adapters spin the cool styled wheels wrapped with unique all-terrain rubber tires.
HPI Bulletin Suspension
The HPI Bullet MT uses a tough suspension design derived from larger racing trucks, but with a few extra bits for increased durability. The HPI Bullet's long suspension arms are damped by 2 oil-filled shock absorbers each, and tough front and rear bumpers combined with skid plates to protect both ends of the truck.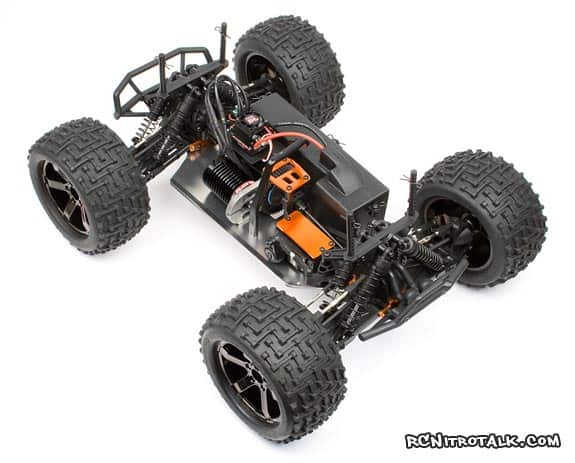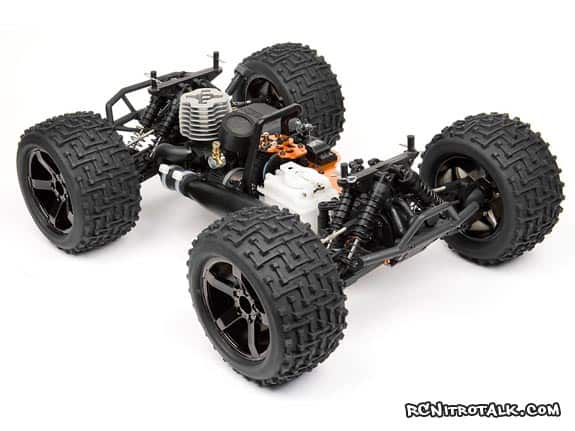 HPI Bullet Features
Factory-assembled and pre-painted 4WD Monster Truck
7075-T6 aluminum chassis provides the ideal backbone
Tough bumpers combine with skid plates to protect all 4 corners
8 oil-filled shocks provide a plush ride
Extra-long suspension arms provide stability and balance
Proven racing design throughout
Steel turnbuckle links allow you to custom-tune the ride
Sealed shaft drivetrain is maintenance-free and super strong
Double-pad slipper clutch design for extra drivetrain protection
Reliable disk brake with adjustable linkage
All-terrain spiked tires look fantastic on black chrome wheels
Solid and reliable HPI electronics fitted in splash-proof receiver box
A smart metal washer prevents over-tightening of wheel nuts
Aluminum center brace for more durability over plastic brace
Additional tuning options included in the kit
Part #:
101401 – HPI Bullet MT 3.0 (Nitro)
101402 – HPI Bullet ST Flux (Electric)
101403 – HPI Bullet MT Flux (Electric)
Discuss the new HPI Bullet trucks in our Nitro RC Talk forum!