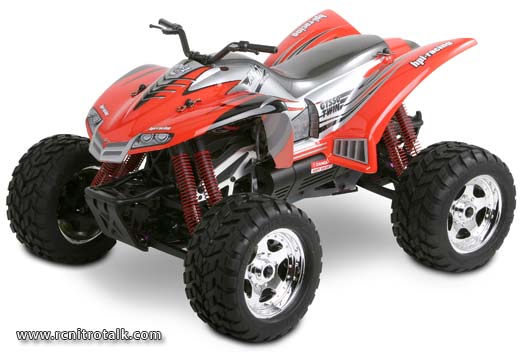 HPI Racing is once again proud to announce a new body: the 1/10th scale ATV-1. The ATV-1 body comes as one of the standard bodies on the exciting new HPI E-Savage line and now we have released this clear version that you can paint to suit your taste. The ATV-1 is modeled after many of the popular off-road ATV's you see in the dunes or on back-road trails all over the world. This body can be used on it's own or with our ATV Rider p/n 85241 for awesome looks that are sure to get your truck noticed in any crowd!
Included with the body is a large pre-cut decal sheet which includes window lines, headlights, tail lights, HPI and ATV-1 logos and much more, providing E-Savage owners with a super realistic finished product. An overspray film is also included to keep your new body pristine until it is time to take it to the trail. An instruction sheet is included for the decals, and the body has dimple marks for body post drill locations. This is a 1/10th scale body that will fit the HPI E-Savage but with some ingenuity it should fit almost any monster truck.
HPI ATV-1 body Features:
Photorealistic die-cut premium vinyl decals with instructions, makes installation much easier, allowing you to get on the trail sooner!
Overspray film makes painting fast and simple, no overspray means good looks!
The body has dimple marks for ease of mounting, your buddies will be jealous!
Molded from 0.040″ clear polycarbonate plastic for durability and long life!
Part #: 7164
MSRP: $26.00
Discuss the new HPI ATV-1 body in our Body Shop forum.