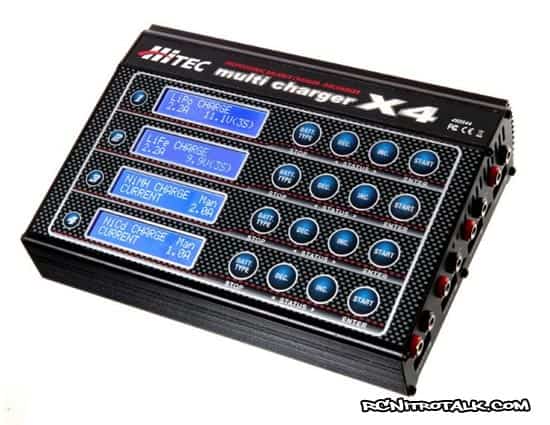 The new Hitec X4 four-channel multicharger, has four port computer controlled capability and is priced to keep you in charge of your wallet as well as your batteries. This compact charger with battery management and integral balancer is simple to use and utterly reliable. The Hitec X4 Multicharger features four identical and independent 50-watt power outputs, for a total output power of 200 watts. Each output can handle up to 15 NiCd/NiMH cells, or a 6S Lithium pack simultaneously.
Four individual balancing ports eliminate the need for a separate balancer when charging Lithium batteries. Hitec has equipped the X4 multicharger with a twin fan cooling system which has an internal sensor for controlling fan speed, the X4 charger is both efficient and safe. Charge your batteries and take charge of your hobby!
The Hitec X4 charger offers a complete charging solution for novice and expert RC enthusiasts alike. The multi-tasking versatility of this new charger makes it a perfect fit for nitro and electric modelers, regardless of what you drive, hover, float or fly.
Part #: 44151 – Hitec X4 Four-Channel Multicharger
MSRP: $164.99